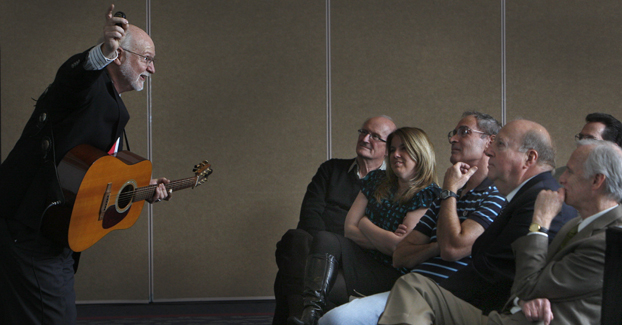 Caption: In his Outstanding Professor Lecture, Martin V. Bonsangue sang "The Barbie Song," acknowledging in his lyrics that while "learning math is hard," fun can be had in the process. Photo: Karen Tapia Download
Outstanding Professor Lecture
Being 'Bad' At Math No Longer Option for America
March 12, 2012
Outstanding Professor Martin V. Bonsangue not only told "America's Math Story," he had the audience computing math, and he sang math's praises, too.
Caption: 
With more than 225 campus and community members attending his Outstanding Professor Lecture March 12, Bonsangue, professor of mathematics, talked about "America's Math Story: Where We've Been, Where We Are and Where We Could Be."
For more than a century, the United States has lagged far behind other nations in teaching and learning mathematics, and being "bad at math" is no excuse, said Bonsangue, who's been an educator for more than three decades.
"America no longer has the luxury of saying that they can't do math," he declared. "The fact is, we have the finest graduate schools in the world; people come from all over the world to come to school here. We can do mathematics! But, we've chosen to maintain practices and procedures, and perpetuate a culture of exclusivity where there's an 'in' group of math and an 'out' group of math — and that needs to change, and it can change."
Bonsangue noted that everyone has a mathematics story: some love math, some hate math, and, well, some just don't care.
"We've always been bad at math," said Bonsangue, who gave the audience a look at America's math history from the 19th century to today. "Part of our culture is not to excel, not to be competitive."
No matter how good or bad one is at math, Bonsangue said he is hopeful that America can be, and should be, among the top countries generating high-achieving math students.
"Is there hope? It's something I've struggled with. I'm very hopeful, and I'll tell you why," he said.
Bonsangue explained that the greatest achievement in his lifetime is not the invention of the color TV or the Internet, but the election of America's first African-American president.
"This is not a political statement," he said. "The election of an African-American president reflects a change in beliefs in society."
And, that is what gives Bonsangue hope that America's mind-set can change to work harder to raise the bar for a mathematically competent society.
"We can overcome our national prejudice against math," he said.
Bonsangue offered a few steps to effect change, such as looking at successful countries like Finland, where students excel in math; and adding more creativity, passion and depth to teaching math.
"Teach math like we teach language arts," he emphasized.
Other ways to encourage math success is to do mental math daily, involve parents in math learning, create math communities, and don't settle for the "I'm just not-smart-enough-to do-math" attitude.
In fact, Bonsangue turned to the Barbie doll for inspiration, especially for young girls who have difficulties in math. He spoke about the Teen Talk Barbie, introduced in 1992, that lamented "math class is tough," causing the toymaker to pull the doll from store shelves amid a public outcry.
But, Bonsangue wholeheartedly agrees with Barbie: "The company says they made a mistake, and I don't think so. Barbie was right on the money. Math is hard."
The 2010-11 Outstanding Professor ended his talk with his own composition, "The Barbie Song," and he strummed the guitar, and belted "Barbie, you don't have to feel that way."
Steven N. Murray, interim provost and vice president for academic affairs, who joined the crowd in a standing ovation, called Bonsangue a role model.
"Thank you for inspiring and mentoring our students to ever greater levels of achievement," Murray told Bonsangue.