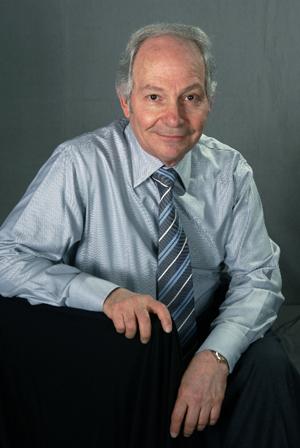 Caption: Psychologist Allen W. Gottfried, founder and director of the Fullerton Longitudinal Study, will unveil his latest research findings April 28. Photo by Karen TapiaDownload Photo
Additional Proof
Students Excel in Math, Attain College Degrees
THE MORE MATH courses students take and excel in, the more likely they are to attain at least a bachelor's degree, according to the latest research conducted by Allen W. Gottfried, emeritus professor of psychology, and colleagues.
Though such things as motivation, high grades, parental involvement and a mother's expectations tend to lead students to college, doing more math leads to taking more challenging academic courses and higher educational success, Gottfried said.
"The higher the level of math course accomplishments, including the number of math courses completed, level of math courses attained and number of specialty courses, such as honors and advanced classes taken, predicts postsecondary educational attainment," Gottfired said. "This research validates the importance of math education, especially in the primary and high school levels. It says children who wish to graduate from college should begin working on mastering mathematics and doing lots of it early on."
He added that the main predictor of college success, however, is a student's cumulative grade point average. In other words: the higher the GPA, the higher the likelihood of completing a college degree.
The founder and lead researcher of the Fullerton Longitudinal Study, a project that has followed more than 100 subjects over the past 30 years from the time they were babies, Gottfried and colleagues — his wife, Adele Eskeles Gottfried, and Howard B. Lee, both professors of educational psychology at Cal State Northridge; CSUF's Diana W. Guerin, professor of child and adolescent studies; Pamella H. Oliver, associate professor of child and adolescent studies; Susan R. Sy, associate professor of psychology; and CSUF graduate students Erin Arruda and Anthony Rodriguez — have produced the following findings:
Students who are motivated to achieve in mathematics from as early as 9 years of age tend to advance in the subject through adolescence.
Those who are not motivated to study math and do poorly do not tend to take challenging courses.
High school students who earn high grade point averages are more likely to earn college degrees than their lower-achieving classmates.
High school students who perform well in academics and pressure themselves to achieve are more likely to attain college degrees.
Adolescents who set higher academic expectations for themselves are more inclined to press themselves to achieve their academic goals.
Persistence is the most salient temperament characteristic in relation to educational achievement.
Mothers' expectations are more predictive of educational attainment than children's expectations.
"Among all of the variables studied and quite a number have been analyzed, including cognitive and non-cognitive variables, or as we labeled it, performance vs. personal variables, the predominant predictor of getting a bachelor's degree is GPA," Gottfried said. "GPA is king when it comes to the prediction of postsecondary success."
Interestingly, he noted, "parental socialization, not parental instruction, was more predictive of postsecondary educational success."
Also, "high aspirations and expectations, high values and beliefs about education, discussions with children about their educational progress are very important," Gottfired said. "Although parental instruction is important during the infant and early childhood years, parental instruction may be a reaction to children's lowered academic performance, and it is questionable whether parental instruction in general actually has any positive effect on children during the mid-elementary and high school years."
Gottfried and his fellow researchers will unveil their latest findings at the Western Psychological Association's upcoming convention in Los Angeles.
Titled "Predictors of and Pathways to Educational Success," their April 28 symposium is part of an honor Gottfried received at last year's convention in Cancun, where he was named WPA's Outstanding Teacher Award recipient.
April 22, 2011