Engineering 'Rising Stars'
Future Geotechnical Engineers Garner State, National Recognition
May 9, 2012 :: No. 177
The Cal State Fullerton student chapter of the California Geotechnical Engineers Association has been awarded the organization's 2012 "Rising Star Award," an honor based on the activities of student chapters and their competition success at the national level, said Binod Tiwari, assistant professor of civil and environmental engineering and adviser of the chapter.
"This is a prestigious award among geotechnical practitioners in California. Our students have done amazing work this year to earn this distinction," said Tiwari, who noted that the campus chapter was started in 2010 to advance engineering students' understanding of the industry and further their learning of key skills to prepare for careers in the profession.
"With the shortage of geotechnical engineers in our industry, this chapter helps to foster interest and careers in the profession," he said.
Chapter's Recent Activities
To further student research and educational experiences, this spring, civil and environmental engineering graduate students and undergraduates participated in the American Society of Civil Engineers' Geo-Congress national competition in Oakland and garnered top awards for their geotechnical projects, Tiwari said.
Four graduate students and 11 undergraduates were invited to present research papers and participate in three competitions, sponsored by the ASCE Geo-Institute.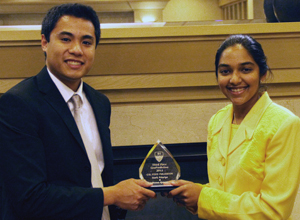 Caption: Third-place winners Mark Principe and Beena Ajmera at the geotechnical competition. Download photo
Beena Ajmera of Ontario and Mark Principe of Orange placed third in the "GeoPrediction" competition and received a $1,000 award. For the competition, students had to predict the behavior of a real-world geotechnical system. The pair had to calculate the amount of soil settlement that occurred each month under an embankment, Tiwari said.
Graduate student Sabah Fanaiyan of Fullerton placed sixth in the nation in the "GeoPoster" competition, in which students had to present their research in poster form. Her research focuses on the modification of weak soil to increase the load-carrying capacity during earthquakes.
A team of four students participated in the "GeoWall" competition, in which 17 invited teams from universities across the country designed and built a model of a stabilized earth wall.
CSUF team members included: Principe, Richard Hastings of Brea, Martha Nevarez of La Puente and Alex Motzny of Fullerton. Their design report was ranked second in the nation and the team received a $2,000 award. (Their model design was not ranked in the final competition.) Undergraduate students Kevin Woods of Anaheim, Jason Nguyen of Fullerton and graduate student Kaushlendra Das of Fullerton also joined the team as support members.
Presenting research papers, also published in peer-reviewed academic publications, were graduate students Ajmera and Adam Lewis; and undergraduates Silman Ruiz, Adrian Correa, Alexander Lemmon, Suzanne Moubayed and Kelby Styler. Ajmera, Lewis, Moubayed, Lemmon and Styler were invited to make oral presentations.
Media Contact:        
Debra Cano Ramos, 657-278-4057