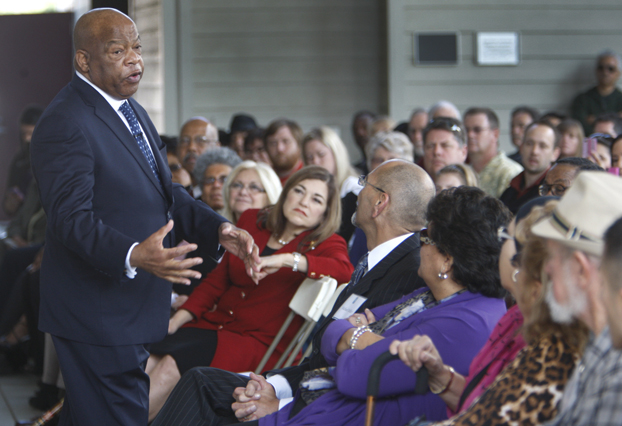 Caption: A crowd of 400 heard Georgia Congressman John R. Lewis discuss his experiences in the civil rights movement, as part of the university's observance of Black History Month. Looking on in front are Congresswwoman Loretta Sanchez and Angela Della Volpe, dean of the College of Humanities and Social Sciences. Photo: Karen Tapia Download Photo
Building A Beloved Community
Civil Rights Leader Speaks About Multiracial Society
Feb. 27, 2012
During the height of the civil rights movement in America, U.S. Rep. John R. Lewis (D-Ga.) was spat on, brutally beaten, arrested and incarcerated.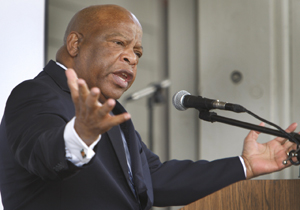 Caption: Congressman John R. Lewis speaking at the Fullerton Arboretum Feb. 26. Photo: Karen Tapia Download Photo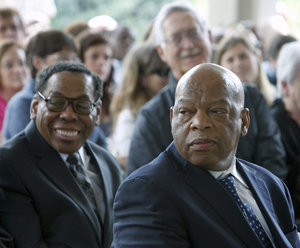 Sitting side by side after being Freedom Riders 50 years ago are Edward B. Johnson, left, and John R. Lewis. Photo: Karen Tapia Download Photo
"I asked my mother and father, 'Why? Why?' I was told, 'That's the way it is. Don't get in the way, don't get in trouble.' But, I was inspired by Martin Luther King Jr. to find a way to get in the way. So, for more than 50 years, I've been getting in the way and getting in trouble," he told a captive audience of more than 400 people who gathered at the Fullerton Arboretum Feb. 26 to hear him speak.
His talk, a highlight of Cal State Fullerton's Black History Month celebration, was part of a lecture series sponsored by the university's Center for Oral and Public History as part of "New Birth of Freedom: Civil War to Civil Rights in California," a free, public exhibit at the Arboretum's Orange County Agricultural and Nikkei Heritage Museum. Lewis was invited to speak by his colleague in Congress, Rep. Loretta Sanchez (D-Garden Grove).
Born the son of Alabama sharecroppers, Lewis attended segregated public schools and was inspired by the activism surrounding the Montgomery bus boycott. He became a part of the civil rights movement, organizing sit-ins at segregated lunch counters in Nashville; volunteering for the Freedom Rides, which challenged segregation at interstate bus terminals across the South; and enduring severe beatings and incarceration for challenging the injustice of Jim Crow segregation laws.
From 1963 to 1966, Lewis was chairman of the Student Nonviolent Coordinating Committee, which he helped form. By 1963, he was dubbed one of the "Big Six" leaders of the civil rights movement, joining Whitney Young, A. Phillip Randolph, Martin Luther King Jr., James Farmer and Roy Wilkins.
By the time he was 23, Lewis was an architect of and a keynote speaker at the historic March on Washington in August 1963. He is the only speaker from that event still living today.
In 1977, Lewis was appointed by President Jimmy Carter to direct more than 250,000 volunteers of ACTION, the federal volunteer agency. In 1981, he was elected to the Atlanta City Council, then to Congress in 1986 and has served as U.S. Representative of Georgia's 5th Congressional District for more than 25 years.
When introducing him Sunday, Sanchez called Lewis a "courageous and unwavering spirit, a great man, a great American."
Lewis talked about his life's work, sharing his experiences in the fight for civil rights alongside Martin Luther King Jr. He also praised Edward B. Johnson, a 70-year-old activist of Inglewood who volunteered as a freedom rider in the early 1960s. Johnson was in the audience.
"The same year that President Barack Obama was born, this young man, a freedom rider in 1961, was arrested. Thank you for going on the ride, brother," Lewis said, pointing to Johnson and leading applause. "Many, many people left this state, came south, got arrested, beaten, jailed, to change America forever."
Lewis recalled the time 50 years ago when he and a white friend arrived at a Greyhound bus station and started walking through a door marked "whites waiting" in South Carolina, where they were severely beaten by a group of white men who left them lying in a pool of blood.
In 2009, one of the men who beat them asked Lewis for forgiveness.
"He said, 'John Lewis, I beat you, I'm sorry, I want to apologize,'" Lewis said, adding that he forgave his attacker and they embraced and cried.
The episode, he said, "says something about the power of the philosophy of nonviolence. It says something about reconciliation, to rebuild that sense of community, to build a beloved community. That's what the civil rights movement was all about — to create a truly beloved community, a truly multiracial society. And, we must not give up. We must not give in. We must not give out. We must not get lost in a sea of despair. We must keep the faith, keep our eyes on the prize, and never, never turn back."
Johnson, whose oral history is part of the "New Birth of Freedom" exhibit, called Lewis' lecture a riveting lesson on the country's history. Others in attendance echoed his sentiment.
Kayla Jones, an 11-year-old sixth-grader from Rancho Santa Margarita, said she was saddened to hear Lewis talk about how he was unable to get a library card as a child because he was black.
"We're all equal and we shouldn't discriminate against each other," she said.
Caption: Congressman John R. Lewis, center, points to civil rights-era buttons. He is flanked by Fullerton Mayor Sharon Quirk-Silva, left, and Congresswoman Loretta Sanchez. Photo: Karen Tapia Download Photo