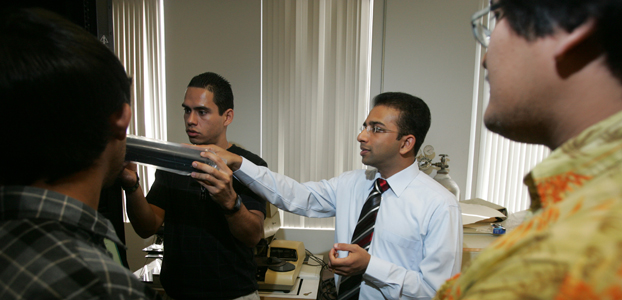 Caption: Kiran George will enlist undergraduate students in his latest research effort dealing with wide-band, digital receivers as a means to expose and engage them in real-world research. Photo: Karen Tapia Download Photo
Recognizing Promise
Kiran George Receives 'Early CAREER' Award
March 6, 2012
Kiran George, assistant professor of computer engineering, has received the National Science Foundation's Faculty Early Career Development (CAREER) Program award. The honor comes with a $400,000 grant for the recipient's new research project.
"I see the CAREER award as the cornerstone of my research career," said George, who will be working on intelligent wide-band digital-receiver systems. "It's indeed a recognition of the proposed innovative research at the frontiers of science and technology and its potential to advance discovery." 
By design, George's project calls for significant participation by undergraduates in the research effort, reflecting the university's continuing emphasis on increasing student interest in the STEM fields — science, technology, engineering and mathematics.
"Involving undergraduates in my research not only gives them a technological edge and an opportunity to work in real research problems," George explained, "it also serves as an important building block in the development of their careers."
One of the top honors for junior faculty, the award acknowledges promising work that integrates research and education.
George, who joined the College of Engineering and Computer Science faculty in 2007, is the second Cal State Fullerton faculty member to receive the award. 
Barbara L. Gonzalez, professor of chemistry and biochemistry in the College of Natural Sciences and Mathematics, received the award in 2002. 
"This is a significant and prestigious accomplishment," said Susamma Barua, associate dean of the College of Engineering and Computer Science and coordinator of the Computer Engineering Program. "The NSF CAREER award acknowledges important work on engineering problems in cutting-edge fields."
George's previous grant awards have provided more than $900,000 in underwriting for his research. His latest research has numerous real-world implications for  communications, biomedical systems and military applications.