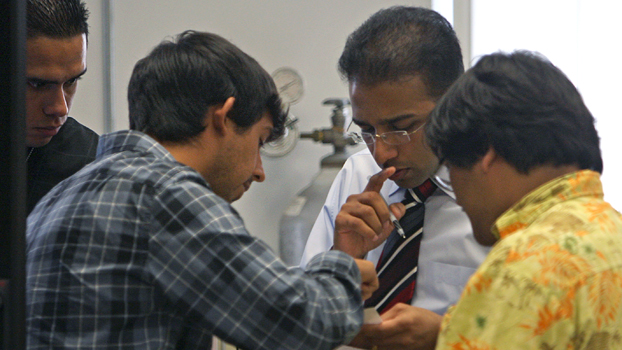 Caption: Kiran George, third from left, confers with students who are working with him on projects advancing digital receiver technology. Photos by Karen Tapia Download photo
High-Tech and High-Impact
Computer Engineering Students Gain Real-World Research Experience
Tucked inside Kiran George's lab is a large, towering "supercomputer" in the back of the room.
The powerful "supercomputing cluster," or group of high-performing machines capable of high-end processing, is fast at work on technological and scientific research.
The assistant professor of computer engineering and his students are using the so-called supercomputer for real-world research projects focusing on advancing digital receiver technology.
The technology focuses on enhancing the capability of both the algorithm and the hardware utilized in digital receivers with potential uses in varied applications, explained George. He was awarded $122,243 from High Performance Technologies Inc. with funds that originated from the U.S. Army Research Laboratory to build a state-of-the-art supercomputer with digital radar receiver capabilities. George and his students spent months earlier this year building the complex system, which is part of the students' senior design project.
Compared to an ordinary computer, this student-built system is much faster and has broader and enhanced performance capabilities, George said. "A real-time receiver algorithm that detects and decodes incoming signals is implemented on this supercomputer," he said. "The algorithm and hardware can potentially be utilized for applications that entail accurate signal detection, such as for biomedical and aerospace applications."
To further his research efforts and opportunities for hands-on study by students, George also has received $180,745 from the National Science Foundation to establish innovative research that will utilize specialized hardware to speed up the algorithm utilized in digital receivers.
Other educational benefits of these awards include integration of research findings into core computer engineering courses and introduction of course work in high-performance computing, George added.
For the researcher, the importance of these projects is not only in the technological advances gained, but also in providing science, mathematics and engineering opportunities for students, especially for students from underrepresented groups.
"These projects are giving CSUF students real-world experience in the areas of high-performance computing and digital receiver technology," he said. "The benefits for students are many, including that they get to be involved in cutting-edge technology.
"By working on a real project — outside the classroom — they're going to reap the benefits of their work when they graduate and get jobs."
Students working on the NSF project also receive stipends for their efforts, which involve 20 hours per week in the lab.
Jason Cabra, a senior computer engineering major, said that working on research has given him the opportunity to expand his knowledge in computer programming languages and learn more about new technologies on the horizon.
"Working on this project is a stepping-stone in my education and future career," said Cabra, who plans to graduate in May.
Fellow senior Everardo Acosta also wanted to put his computer engineering knowledge to the test on a project, in hopes of advancing his education and future.
"By joining this NSF research, I wanted to learn how the theory taught in class works in real-life situations, as well as gain the opportunity of actually working with others on projects like we would in the workforce," said Acosta, who is president of the student chapter of the Institute of Electrical and Electronics Engineers, Computer Society. He also plans to graduate in the spring.
"Having this research under my belt can help me gain a job where I already have the experience."
Nov. 29, 2011