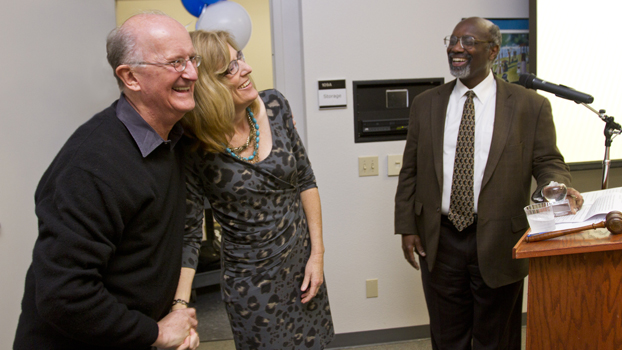 Caption: Academic Senate Chair Jack Bedell hugs Andrea Guillaume, this year's Carol Barnes Excellence in Teaching Award recipient, following the announcement by CSUF Interim President Willie Hagan, right, during today's senate meeting. Photo: Matt Gush Download Photo
Classroom Excellence Honored
Andrea Guillaume Presented with 2011-12 Carol Barnes Award
April 26, 2012
Andrea Guillaume, professor of elementary and bilingual education, arrived at today's Academic Senate meeting prepared to make an invited presentation. But before she could begin, Cal State Fullerton Interim President Willie Hagan wanted to say something.
Hagan announced to the packed meeting room that Guillaume, a member of the university faculty since 1991, is this year's recipient of the Carol Barnes Excellence in Teaching Award, one of the university's highest faculty honors.
As Hagan read aloud her accomplishments, those at the senate meeting gave her a standing ovation.
"When I informed Carol Barnes that you had been selected as this year's recipient, she was delighted," said Jack Bedell, Academic Senate chair and emeritus professor of sociology. "She said to tell you that you are an incredible teacher, researcher and colleague. You have managed to balance work and family obligations, and you are the ideal recipient of this award."
The award was inspired by the achievements of Barnes, an emeritus professor of elementary and bilingual education who received the university's 1994-95 Outstanding Professor Award and distinguished herself in leadership roles on state and national levels.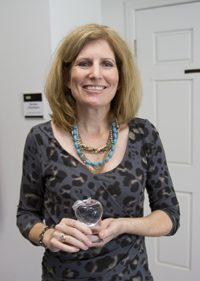 Caption: Andrea Guillaume                   Download Photo
"What an honor this is," said Guillaume upon receiving the crystal apple that is traditionally presented to honorees.
"And what a sneaky man you are," she said, shaking her finger at Bedell. "But in all seriousness, this is a great honor. Carol Barnes hired me at Fullerton and was a mentor to me during the first 10 years of my career."
Known internationally for her expertise in teaching and curriculum development, Guillaume has mentored university faculty members and served as a "master" teacher to various delegations. She teaches more than 20 different courses spanning undergraduate, credential, master's and doctoral levels. She teaches not only in the classroom, but in online forums, as well.
While at Cal State Fullerton, she has been awarded more than $4.5 million in grant funding to assist the region's teachers in a variety of programs. Also during her tenure at CSUF, she has produced five textbooks (with one in its fourth edition), published numerous journal articles and written multiple textbook chapters. She has presented papers at numerous conferences and provided hundreds of in-service training programs.
Guillaume serves on a variety of university committees, including the University Curriculum and General Education committees, and volunteers in the community — primarily at local elementary schools, where she has focused on programs in science, math and reading. She also has served on the boards of numerous professional organizations.
"Described by her students as inspirational, genuine, caring, professional and knowledgeable, Guillaume establishes an environment where learning and the creation of knowledge are central to everything she does," said Claire Cavallaro, dean of the College of Education. "She has a gift for connecting with her students, no matter their level or background."
"Dr. Guillaume consistently works to improve her teaching," said Lisa Kitman, chair and professor of elementary and bilingual education. "What distinguishes her from others who participate in professional development is that she ensures that the information she acquires not only improves the teaching and learning for her own students, but for students across multiple programs."
For instance, after participating in an art institute, Guillaume joined colleagues in the creation of an arts-enriched cohort for CSUF's credential students to encourage them to incorporate the arts into their teaching programs. She also collaborates with faculty members in other colleges and has guest lectured in nursing classes, in addition to her colleagues' courses in the College of Education.
Working with a colleague, Guillaume also established a technology boot camp, where she demonstrates how teachers can use technology for a variety of purposes. Today, each student in the department is required to participate in the boot camp before beginning the credential program.
"Andrea has been an excellent role model and unending source of knowledge and ideas," said Bedell. "She has transformed our teaching and understanding of pedagogy. She promotes thinking and sharing among faculty and engages us in ways that promote our learning and what we can directly utilize in the classroom."
Guillaume counts the Student Learning and Teaching Excellence (SLATE) Academy among her richest experiences on campus. Working with other faculty members from across campus, she helped develop the 18-month program for colleagues to identify their areas of expertise, as well as areas for growth in pedagogy and teaching strategies. Faculty members are provided with a forum in which they can practice these skills and receive feedback from their peers.
Her other areas of involvement include the Institute for Advancement of Teaching and Learning, the Center for Excellence in Science and Mathematics Education and the Joint Doctoral Program.
She currently serves as the Faculty Development Center's faculty coordinator for teaching and learning and co-leads the University Business Institute's "train the trainer" workshops.
Through the College of Education's Center for Creativity and Critical Thinking, she has taught technology to practicing teachers, designed and led the innovative arts and creativity-rich multiple subject block and developed an ethics workshop for teacher candidates.
Her student evaluation scores consistently rank as excellent. A sample of comments:
"This was one of my best experiences during my education."
"Although the class was 100 percent online, it had a human touch."
"Absolutely one of the best instructors I've ever had. She is engaging and really models what great teaching should be."
Guillaume earned her doctorate and master's degree in curriculum and instruction from UC Riverside and her bachelor's degree in liberal studies with an emphasis in mathematics and science from San Diego State University.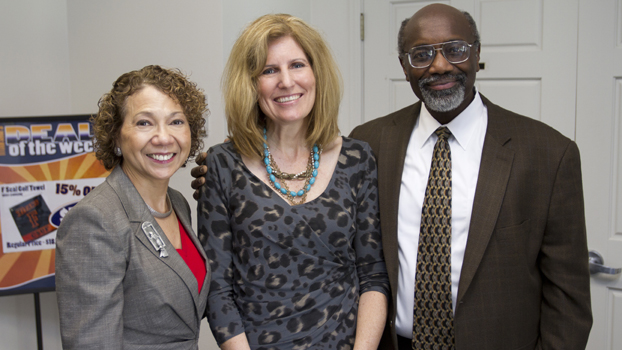 Caption: Mildred Garcia, CSUF's incoming president, left, and Willie Hagan, the university's interim president, congratulate Andrea Guillaume following the announcement at the Academic Senate. Photo: Matt Gush  Download Photo