Students and Peers Sing His Praises
Michael Loverude Honored With Excellence in Teaching Award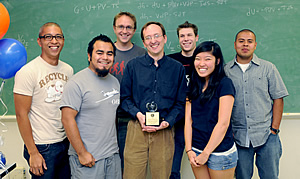 Michael Loverude, professor of physics, and his seminar students are all grins after campus administrators bring surprise news of his selection for Carol Barnes Excellence in Teaching Award. Photo by Kelly Lacefield
A scientist students call "awesome," "exceptional" and "outstanding," who they credit with helping them enjoy learning physics, is this year's recipient of the Carol Barnes Excellence in Teaching Award at Cal State Fullerton.
Michael E. Loverude, associate professor of physics, was surprised when CSUF President Milton A. Gordon led a contingent of administrators and peers into his Wednesday seminar class to announce the honor. The president joked about Loverude's small class of six students, eliciting laughs and applause as he congratulated the honoree.
The Barnes Award recognizes a faculty member who has demonstrated academic rigor in teaching consistent with the university's mission and goals.
"If it had not been for his motivation and advice, I would have not applied to the University of Wisconsin-Madison's summer research program and would not have gotten accepted," said Casey Sanchez of his faculty research mentor. "As a professor, he provided me with challenges that pushed me to go beyond my level of understanding. As an adviser and friend, he took away any doubt and worries I had regarding graduate school. Overall, the best thing I have to say … is that I am only one of many students that he helps in their academic careers."
Students Rate Teacher Highly
Among comments shared by students in their evaluations of him:
Loverude "was, by far, the best instructor I've had. The in-class experiments were so essential in my understanding of the material and the fact that it was not purely quantitative made me actually enjoy and understand physics."
"An excellent professor and shows a zeal for what he is teaching."
"His enthusiasm and passion for the course were clear every day."
"This is the best science class I have ever taken."
Loverude, who joined the faculty in 1999, received accolades from several of his peers, who noted his high student evaluations, his research into how to teach physics better and his collaborative efforts with faculty members across the sciences.
"The process of teaching and learning is at the very core of my professional being," said the honoree. "Students in all courses have conceptual and reasoning difficulties; I have been surprised in several cases to see that students in more advanced courses have the same difficulties as those in general-education courses.
"The different goals of these courses require different instructional strategies and emphases, but all of my courses have in common the focus on underlying concepts and the active intellectual engagement of students."
Respect of Associates
"His research and teaching efforts naturally go hand in hand," said Murtadha A. Khakoo, chair and professor of physics, noting two grants Loverude has received from the Natural Science Foundation to improve the use of labs in teaching introductory physics. "He is undoubtedly one of our best teachers."
"I am awestruck by his high evaluations, especially in Physics 102 ["Physical Science for Future Elementary Teachers"], noted Roger Nanes, former department chair and emeritus professor of physics. "As future teachers, the students in this course are more aware and sensitive to the nuances of good teaching practice, and their appreciation of Michael's instruction is even more noteworthy."
Nanes also pointed out that Loverude "is keenly interested in gaining an understanding of student difficulties in learning physics and using that understanding to develop research-based curricula that address those difficulties."
"I have observed the rapport that he builds with the students, his concern for determining the prior knowledge that they bring and how to build a bridge from that knowledge to accomplish the learning outcomes for the course," said Barbara Gonzalez, associate professor of chemistry and biochemistry, who has team-taught and conducted research with Loverude. "He has a way of making students feel safe to take academic risks, unafraid to articulate their thoughts and willing to attempt new ways of thinking. … He engages his students, is present to them and indicates, in practical ways, how much he cares about their learning. "
"I consider Michael Loverude to be a true science education research colleague; he makes all of us better," Gonzalez added.
Background
Loverude holds a doctorate and master's degree in physics from the University of Washington. His dissertation was titled "Investigation of Student Understanding of Hydrostatics and Thermal Physics and the Underlying Concepts From Mechanics." Loverude also served as a science teacher at Booker T. Washington High School in New Orleans.
The educator has been recognized with several awards at Cal State Fullerton, including the College of Natural Sciences and Mathematics Outstanding Teaching Award in 2006 and the Students' Choice Award in 2002.
A resident of Long Beach, Loverude currently serves on the American Association of Physics Teachers Committee on Research in Physics Education and has co-chaired the organization's Physics Education Research Conference Planning Committee. On campus, he has chaired the Graduate Education Committee and served on several college and department committees.
Award Named for Noted Educator
The Carol Barnes Excellence in Teaching Award was created three years ago and is named in recognition of the achievements of an emeritus professor of elementary and bilingual education, recipient of the university's 1994-95 Outstanding Professor Award recipient and a recognized distinguished educator on the state level.
Previous recipients of the award are: Scott Annin, associate professor of mathematics, 2007-08; Melinda Blackman, associate professor of psychology, 2006-07; and Raphael J. Sonenshein, professor of political science, 2005-06.