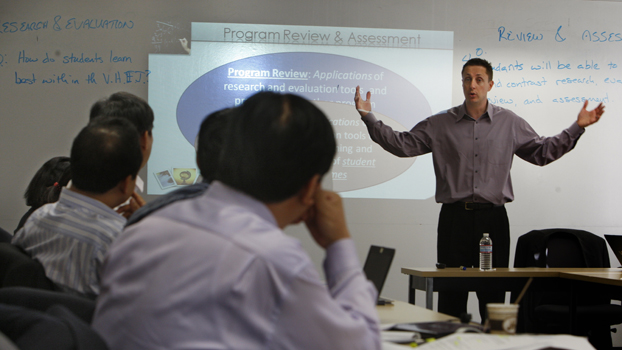 Caption: John L. Hoffman, CSUF assistant professor of educational leadership, makes a presentation to a group of Vietnamese higher education leaders during a recent campus visit. The focus was on research applications to address the issues and challenges facing educators in their country. Photo: Karen Tapia Download Photo
Addressing Education's Challenges
Vietnamese Leaders Receive Training to Strengthen Research Practices
May 22, 2012
Educational leaders from Vietnam National University in Ho Chi Minh City recently spent two weeks on campus, focusing on learning academic and practical research applications to address issues and challenges facing education in their country.
The College of Education's Center for Research on Educational Access and Leadership (C-REAL) hosted the educators as part of the "Vietnam Higher Education Research Institute," one of the center's current projects.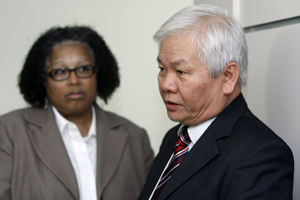 Caption: CSUF's Dawn Person and Le Quang Minh discuss education issues. Photo: Karen Tapia Download Photo
During the visit, education faculty members facilitated lectures and training in teaching and learning, educational leadership, assessment and evaluation, among other topics to help strengthen research and scholarly efforts, said Dawn Person, professor of educational leadership and center co-director.
"The issues of educational reform in Vietnam are quite similar to those we struggle with here in the United States, including addressing lack of resources, student outcomes, quality education, and developing effective educational leaders and scholars to address the practical problems of education," explained Person. "Through these partnerships, we can collaborate and share effective practices."
To give a broader view of California's higher education system to the 12 Vietnamese administrators and faculty members, the group attended training sessions at UC Irvine, and Cerritos and Fullerton colleges.
Le Quang Minh, vice president of Vietnam National University, said the university partnered with the center to help their faculty build a stronger research culture and develop effective leadership and management skills.
"We're trying to learn to develop the capacity to do research in higher education," Minh said, adding they chose the center's program "because it is practical and hands on."
Effecting Educational Change
Launched in 2008 to address issues facing preschool to higher education, C-REAL's goals are to address national and global education issues, including diversity, assessment, evaluation, leadership, access and social justice.
"C-REAL has played a central role in our effort to create a doctoral culture that integrates research and practice. And this is critical because today's educational leaders do not have the luxury of relegating the analysis and interpretation of data to analysts whose work is detached from practice," said John L. Hoffman, assistant professor of educational leadership and a C-REAL faculty member.
Today, the center is working on 26 projects through collaborations with the university's Academic Affairs and Student Affairs divisions and programs, local and global educational agencies and institutions, and schools and colleges, said Person. The center also hosts educational programs and research symposiums throughout the academic year.
"C-REAL and the College of Education benefit from our programs and projects because they represent deep partnerships that are sustainable and enrich all educators involved," she explained.
Projects range from research-driven studies, program assessment and evaluation to educational training, such as the Vietnam and Russian Higher Education institutes, initiatives addressing the achievement gap and science, technology, education and mathematics education, and state and national issues, such as challenges faced by undocumented college students (See related story at right).
This summer, the center will conduct an international exchange project with doctoral students from the University of the Western Cape in Cape Town, South Africa. During the six-week workshop series, the South African students will work with CSUF faculty members and student researchers on professional development training, preparation in student affairs administration and the establishment of educational programs.
This spring semester, 23 undergraduate, master's and doctoral students have been involved in the center's projects, Person said.
Michelle Cuellar and Noemy Medina, both working on their master's in education-higher education concentration, are among the student researchers. This semester, they have been working on assessment and evaluation of the university's GEAR UP program.
"I've always wanted to be in education, but never saw myself as a researcher," said Cuellar, who graduated this month and will pursue a career in student affairs. "C-REAL has helped me to become an effective researcher. I have learned evaluation skills that will be an asset in my future career."
Medina, who aspires to earn a doctorate in education and become a university professor, said that being involved in the GEAR UP research has been a valuable experience. "By doing educational research, we can help solve educational problems, and prove that a program is successful; it's a tool to support education."
The most rewarding part of conducting research at the center is the opportunity to work with Person, who sets high expectations for the student researchers, added Cuellar, who also wants to earn a doctorate in education.
"She pushes us to achieve our highest potential. With Dr. Person it's like 'Great job! You've risen to the occasion. Now how can you make it better?' She has taught me that there will always be more to learn, and that there is so much more to achieve."