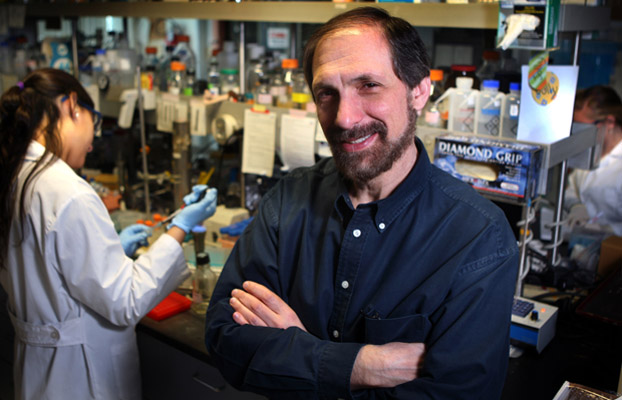 Caption: Marcelo Tolmasky, professor of biological science,  will be giving this year's Outstanding Professor Lecture March 21. At left is student Agostina Potolicchio.Download Photo
Outstanding Prof Lecture March 21
Scientist Links Combating Antibiotic Resistance to Arms Race
March 14, 2011 :: No. 95
Who/What:
Cal State Fullerton Outstanding Professor Lecture by Marcelo Tolmasky, professor of biological science, will address: "The Struggle Against Antibiotic Resistance: A War That Can't Be Won?" Tolmasky's research efforts focus on strategies to extend the life of existing drugs to make them more resistant to bacteria.
When:
Monday, March 21
11 a.m.-1:30 p.m. Reception follows public lecture
Where:
Cal State Fullerton, Titan Student Union Portola Pavilion
800 N. State College Blvd., Fullerton, 92831
About the Lecture:
"The advent of antibiotics was a quantum leap in our capabilities to treat infections," Tolmasky said. Their success merited the nickname "miracle drugs." However, the miracle may not last forever, according to Tolmasky, whose research centers on bacteria's resistance to antibiotics. Pathogenic bacteria learned to resist the action of antibiotics and are becoming resistant faster than new antibiotics are found or created, he added. "The situation has become sort of an arms race. Can we win or, at least, keep up?"
Background:
In the mid-1980s, Tolmasky started to research antibiotic resistance at the Oregon Health and Sciences University as a postdoctoral fellow in collaboration with personnel from a children's hospital of Argentina, where several neonates had died as a consequence of outbreaks of hospital infection caused by multiresistant bacteria. He came to Cal State Fullerton in September 1995, and today, continues his research with undergraduate and graduate students learning and working in his laboratory. Tolmasky earned his Ph.D. and master's degree in chemistry at the University of Buenos Aires. He has garnered more than $3 million worth of grants in support of his research efforts, and has authored or co-authored 95 scientific articles — with some co-authored by his students. Tolmasky is the director of Cal State Fullerton's Center for Applied Biotechnology Studies, and also oversees the university's Health Promotion Research Institute and the Minority Health and Health Disparities International Research Training Program. 
About the Award:
Last May, Tolmasky was presented with the 2010 Cal State Fullerton Outstanding Professor Award, the highest faculty honor bestowed by the university. He was recognized at last spring's Honors Convocation and also led commencement ceremonies. Traditionally, the recipient of the Outstanding Professor Award gives a public lecture the following spring semester. Recipients of the award must demonstrate a record of superlative teaching and scholarship on a national or international scale and contributions to the stature of the university and the California State University system.
Media Contacts:
Marcelo Tolmasky, Biological Science, 657-278-5263 or mtolmasky@fullerton.edu 
Debra Cano Ramos, Public Affairs, 657-278-4027; 657-278-2414 or dcanoramos@fullerton.edu