The Year's Outstanding Professor
CSUF Researcher of Antibiotic-Resistant Bacteria Has International Reputation
Marcelo Tolmasky's life's work has been all about bacteria's resistance to antibiotics, and he has excelled in getting thousands of students at Cal State Fullerton and other parts of the globe interested in it as well. Colleagues and students alike praise him for his dedication, his scholarship and his teaching ability, which have earned him this year's Cal State Fullerton Outstanding Professor Award, the highest faculty honor bestowed by the university.
The biological science professor and his students were taken by surprise Monday when CSUF President Milton A. Gordon — joined by former outstanding professors, campus administrators and Tolmasky's family members — walked into the classroom, strode to the front holding a crystal elephant on a pedestal and made the announcement.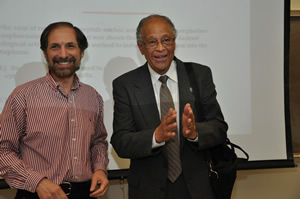 President Milton A. Gordon joins students in applauding for honoree Marcelo Tolmasky. Photo by Patrick O'Donnell.
"Your professor has been selected the Outstanding Professor of 2010," was followed by prolonged applause from the students. "You embody the best of education, research and service," Gordon told Tolmasky.
From the students could be heard "Cool!" "Good!" and "Sweet!" When asked if they would have their photo taken with their professor, every seat emptied and the front of the room was soon filled.
The Brea resident, wearing a wide grin, came up with only two words to describe how he felt: "Good! Surprised!" Looking on with pride were Tolmasky's wife, Liliana; their son, Francisco, who flew down from San Francisco; and the professor's brother, Carlos, who flew in from Minnesota.
Bob Koch, chair and professor of biological science, garnered laughs when he said, "This award is for a long list of all the things he's done. My question is, what is he going to do now?"
Since the mid-1980s, Tolmasky has studied how and why bacteria becomes resistant to antibiotics, a growing concern in the medical field internationally. His work has led to teaching and speaking engagements around the world, and because of his skill as a mentor and educator, many of his students also have conducted research and made presentations nationally and internationally.
Tolmasky is congratulated by College of Natural Sciences and Mathematics Dean Steven Murray, who received the coveted award in 2003. Photo by Patrick O'Donnell
One such student is T. Richard Parenteau (B.S. biological science '08), who went on to a medical/research doctoral program in biology last year at UC San Francisco. Parenteau wrote in his letter of support for Tolmasky that he experienced the professor's respect for his students when he was accepted into the Minority Access to Research Careers program in 2005.
During an interview by Parenteau, Tolmasky "gave a five-minute description of the science of antibiotic resistance, laid out three projects I could choose from, and gave me four extremely hard and detailed papers to read on my own. When I left, I scoffed at his lab." Yet, a week later, he surprised himself by joining.
"Now I understand. He spoke to me and considered me a young colleague, one wet behind the ears, but a peer nonetheless. I had never been treated like a real scientist before," said Parenteau. Tolmasky, he noted, addresses students like full-fledged microbiologists and has them collaborate on designing research and analyzing results. Under Tolmasky, he developed so dramatically, Parenteau said, "I would barely recognize the shy neophyte who practically ran out of his office."
Students rate him consistently near the maximum score of 4.0 as an instructor, with such comments as: "I love Dr. Tolmasky. He's a great professor. He teaches from the heart because he honestly loves the subject" and "extremely approachable, open to questions and shows concern for students. He's friendly, knowledgeable about the subject and creates an easygoing atmosphere in class."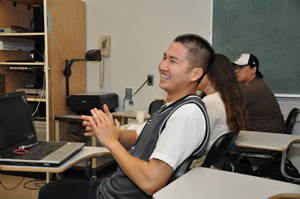 Student Tri Duong, a senior biological science major, reacts to the news that Marcelo Tolmasky is this year's recipient of the Outstanding Professor Award. Photo by Patrick O'Donnell
Tolmasky, who earned his master's degree and doctorate in chemistry at the University of Buenos Aires, Argentina, also engenders praise and support from colleagues on the campus, as well as internationally.
"Many CSUF faculty have strong teaching records, but Dr. Tolmasky stands out … for his outstanding work as a mentor to students. Students seek him out," said Steven Murray, dean of the College of Natural Sciences and Mathematics. "Many biology majors want to gain research experience in his laboratory, and many of his peer-reviewed publications are co-authored by students. His strong and able mentoring works to get the best out of his students, and they are constantly making research presentations at major meetings and often winning awards for their work."
"I consider him to be my mentor and a collaborator," said Chandra Srinivasan, associate professor of chemistry and biochemistry at Cal State Fullerton. Srinivasan collaborates with Tolmasky on a number of research projects, mentors students with him and is a co-recipient of a National Science Foundation grant for the Noyce Teachers Scholarship Program to train science teachers.
"The quality of his work is evident from the uninterrupted federal support he has received from the National Institutes of Health for the entire time he's been at Cal State Fullerton," she said. "Marcelo involves his students in a meaningful way, and he has a long list of them [nearly two dozen] from his lab that have gone on to professional or graduate schools. I know several of them and they speak fondly of him as a mentor and of the training they received."
Stanley Maloy, dean of San Diego State's College of Sciences, reported he has worked on several committees and attended seminars presented by the honoree. "Although his focus is in basic research, several of the contributions from his lab have important practical applications in plasmid biology and antibiotic resistance," said Maloy. "The research contributions from his lab represent novel, creative discoveries, not simply another minor addition to the research literature."
Tolmasky holds the status of academic affiliate at San Diego State's Center for Microbial Sciences. Affiliates are members of multidisciplinary teams that study a wide range of topics, including bioterrorism, antibiotic resistance bacteria, and new and improved uses of microorganisms in biotechnology.
Armando J. Parodi, president of Fundacion Insituto Leloir in Argentina, where Tolmasky completed his doctoral thesis work under the institution's namesake, Luis F. Leloir, said, "Marcelo has had long collaborations with several groups in Argentina. His insights, general counseling and expertise have been extremely useful for the development of research in microbiology in this corner of the world. Marcelo is a born teacher and researcher."
Tolmasky is a corresponding investigator at Leloir, allowing him to conduct and collaborate on research. He also is an official academic visitor to the University of Oxford, the United Kingdom's microbiology unit since 1998.
Tolmasky said he became a scientist and an educator thanks to his teachers. One, he said, had a refrain that sticks with him today. "No matter how much money I make today, or how big my house, or how nice the car I drive, I will not make an impact on how the world will be in 50 years. But I can make a small, positive difference shaping the future world if I help educate a human being."
The director of the university's Center for Applied Biotechnology Studies in the College of Natural Sciences and Mathematics, Tolmasky also directs the Minority Health and Health Disparities International Research Program and the International Research Training Program for the Los Angeles Basin.
In addition to more than 200 presentations and seminars, Tolmasky co-edited the book "Enzyme-Mediated Resistance to Antibiotics Mechanisms, Dissemination and Prospects for Inhibition," published by the American Society for Microbiology, with Robert A. Bonomo of the Louis Stokes Cleveland Department of Veterans Affairs Medical Center. In addition, he authored or co-authored 93 papers, 45 of them during his 15-year tenure at Cal State Fullerton. His students are listed as co-authors on 20 of them.
As this year's Outstanding Professor Award recipient, Tolmasky will be recognized at the university's May 21 Honors Convocation and carry the mace to lead the faculty during commencement ceremonies that follow May 22 and 23. He will receive a $4,000 cash award from the President's Associates and present a public lecture next spring.
Susamma Barua, associate dean of the College of Engineering and Computer Science and coordinator of the Computer Engineering Program, chaired the 13-member Outstanding Professor Committee.
The Outstanding Professor Award
Recipients of the award must demonstrate a record of superlative teaching, distinguished scholarship on a national or international scale and contributions to the stature of the university and the California State University system.