Knack for Research
Student Researchers Take Top Honors at Statewide Contest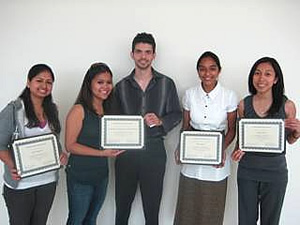 The Cal State Fullerton winners of the CSU Research Competition are, from left: Richa Aggarwal, Kara Mayol, Dan Fallah, Beena Ajmera and Lianne Nacpil.
Two Cal State Fullerton graduate students and three undergraduates — all with a knack for conducting sophisticated research — won first- and second-place honors at the annual California State University Research Competition held at San Jose State University.
Competitors at the statewide contest, held April 30-May 3, qualified by first winning their campus competitions.
Beena Ajmera of Ontario, who is completing a bachelor's degree in civil engineering and mathematics, finished first in the undergraduate engineering and computer science category for "Estimation of Fully Softened Shear Strength With Index Properties." Her faculty mentor is Binod Tiwari, assistant professor of civil and environmental engineering. Earlier this spring, she was a first-place winner in a national contest that pitted her research against studies conducted mostly by doctoral and graduate students. Details at this link: http://calstate.fullerton.edu/news/Inside/2010/beena-ajmera-poster-wins.html
Lianne Nacpil of La Mirada, who is pursuing a master of public health degree, took first place in the interdisciplinary category for "The Biopsychosocial Factors Associated With Overweight and Obesity Among Latina/o Children and Adolescents." Her faculty mentor is Jie W. Weiss, associate professor of kinesiology.
Biology major Richa Aggarwal of Fullerton, earned a second-place award in the graduate level biological and agricultural sciences category for "Use of Liposomes as Delivery Vehicles of Antisense Oligonucleatides Into Bacteria Cytoplasm." Faculty mentor is Marcelo E. Tolmasky, professor of biological science and this year's recipient of the university's Outstanding Professor Award.
Dan Fallah of Aliso Viejo and Kara Mayol of Chino Hills, both undergraduates majoring in electrical engineering, together won second place in the undergraduate engineering and computer science category with their presentation of "Autonomous Lawnmower." Their mentor is Jidong Huang, assistant professor of electrical engineering. Electrical engineering major Sandra Martinez of Santa Ana was unable to join her teammates in San Jose.
Other campus winners who took part in the statewide competition are:
Graduate students —
• Kyle Anderson of Irvine, civil engineering, "Improving Energy Efficiency of a Building in the Conceptual Design Phase Using the Technology of Building Information Modeling in the Construction Industry." Mentor: Hyunjoo Kim, assistant professor of civil and environmental engineering
• Cori Knight of Placentia, English, "'No Balm in Gilead': The History and Familiarity of 'The Handmaid's Tale.'" Mentor: Chris L. Ruiz-Velasco, associate professor of English, comparative literature and linguistics
Undergraduate students:
• Roger Kalache of Anaheim, civil engineering, "Effects of Configuration of CFRP on the Flexural Behavior of Post-Tensioned Concrete Beams." Mentor: Uksun Kim, assistant professor of civil and environmental engineering
• Ali Mushtaq of Anaheim, sociology, "Constructing Anorexia and Gender Identity Disorder Through Patriarchy." Mentor: Angelique C. Harris, assistant professor of sociology
• Jung Park of Stanton and Umesh Patel of Anaheim, both mechanical engineering, "Integrated Wheel Design." Mentor: Hossein A. Moini, professor of mechanical engineering
• Steven Schill of Placentia, chemistry, "Examining Surface Area Contact Effects on a Quartz Crystal Microbalance." Mentor: Paula K. Hudson, assistant professor of chemistry and biochemistry.
Campus judges were: Susamma Barua, acting associate dean, College of Engineering and Computer Science, and program coordinator, computer engineering; Robert A. Koch, chair and professor of biological science; Paul J. Levesque, associate professor of comparative religion; and S. Irene Matz, associate dean of the College of Communications.