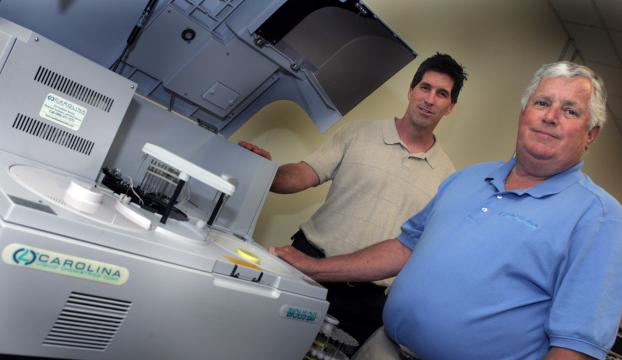 Caption: Master's student Ron Morley, left, was recently offered a job following an internship with Carolina Liquid Chemistries in Brea. Thanks to the education he received in Cal State Fullerton's Program for Advanced Biotechnology Studies, Morley "got it" the first day at the company, said James Henneman, right, CSUF alumnus and Carolina's director of regulatory and quality assurance.Download Photo
Education Meeting Industry Needs
Biotech Program Benefits Students, Employers
Before Cal State Fullerton student Ron Morley finished his first year of the new two-year professional science master's degree program with a focus on biotechnology, he'd already benefited. He got a new job.
Morley served a summer internship with biotech company Carolina Liquid Chemistries in Brea. Carolina produces chemicals and reagents for hospitals, laboratories and physicians. It was his education in the Program for Applied Biotechnology Studies at Cal State Fullerton that got him the permanent position.
It's a big change from the flooring company he ran since earning a bachelor's in biology in 2004. "At Carolina, I've been working on quality assurance and regulatory assurance. Those are the master files and paper trails for everything we do," said Morley. "Because I had already acquired basic knowledge and skills through PABS, Carolina's processes were already familiar."
"Ron 'got it' the first day," said Jim Henneman, Carolina's director of regulatory and quality assurance, an alumnus (B.A. biological sciences '79) and member of a PABS planning committee. "The previous graduates we hired were knowledgeable in specific fields but knew little about international aspects, regulations or the business end. It took time to train them, making it an expensive process and slowing production.
"Graduates like Ron who arrive already trained can give us a competitive edge," he said.
Cal State Fullerton, joined by Cal State Los Angeles, Cal Poly Pomona and industry leaders, designed the program specifically to supply the kind of graduates the biotech industry needed. The area from Los Angeles to San Diego has the country's highest concentration of biotech companies, but graduates lacked a wide knowledge base, said biotech industry veteran Dave Dyer, who serves as PABS director.
The three-campus PABS consortium is part of a California State University systemwide effort to offer updated, industry-sensitive professional science master's degrees, and its focus meshes with a Cal State Fullerton campuswide initiative on science, technology, engineering and math.
The effort is fueled by funding of nearly $1.5 million from the Alfred P. Sloan Foundation and $100,000 from Abbott Laboratories. The program was called the most advanced in the nation when it was presented at the National Governor's Association Professional Science Master's Academy in 2008.
Donald Hodgson, president of Controlled Nanovolumes in Fullerton, said his intern, too, had an immediate impact. "Philip Ngo's primary job was working with others on product development of drug delivery systems. He came prepared with advanced knowledge, and his contributions were invaluable." Controlled Nanovolumes provides commercial applications of technology for nutrition, chemistry and medicine.
Ngo, a Buena Park resident and associate scientist at Gilead Sciences Inc., a biopharmaceutical company that focuses on viral and infections diseases and cancer, credited PABS for his transformation from a biochemist who knew only that field to the leader he was at Nanovolumes.
"I like that PABS makes us work in teams. We have to exercise good communications, leadership and problem-solving while taking into account other team members' personalities and skills," he said. "I've found I am capable of more than I thought."
Gerard Jensen, Gilead's director of development and technical service, has a dual perspective on PABS: as a member of the biotech industry and as a part-time PABS instructor at Cal State Fullerton. As a professional, Jensen sees many in biotech awakening to the need for expanded expertise and looking for places to get it, and as an instructor what impresses him is "the brightness of the students. They're eager to grasp and use new concepts. It shows at work."
Courses progress from the introductory, such as commercialization of biotechnology and bioinformatics, and advance to molecular biology, pharmacology, biomedical devices and regulatory and quality assurance. Year two moves on to advanced courses in those subjects plus choices in specific fields of interest, such as biochemistry, biomathematics, biotech engineering and analytical engineering.
This year, the program's first cohort of 12 students will start their capstone project. Each student or student team's project will be a real-life, real-time industrial challenge provided by participating biotech companies. Each company will assess the students' work.
Among the participating biotech firms are Gilead, Carolina, Allergan Inc., Watson Laboratories Inc., Molecular Express, Irvine Pharmaceutical Services, Grifols USA and Advanced Bionics. In all, nearly four dozen Southern California biotech companies support PABS. Company leaders provide guidance on the curriculum and will speak to students, while many also provide internships, case studies and instructors.
This year's 20-student cohort, which recently finished a one-month, high-intensity Survey of Biotechnology course, will have more educational opportunities than the pioneer group, Dyer said. As the program grows, PABS is forming online courses and a biomaterials engineering concentration.
In addition, Sahar Shaheim of Cal State L.A., a second-cohort member, has formed a PABS Biotechnology Club that will organize lectures by biotech and pharmaceutical leaders, and the California State University system, in collaboration with the health sciences industry, has formed Biocompass. Biocompass is a clearinghouse for educational opportunities and is developing two certificate programs in Biotechnology Project Management.
"PABS is about teamwork between industry, academia and students and our shakeout year has gone well," said Dyer. "There is constant assessment of industrial training and education needs, so the new opportunities don't end here."
Sept. 7, 2010