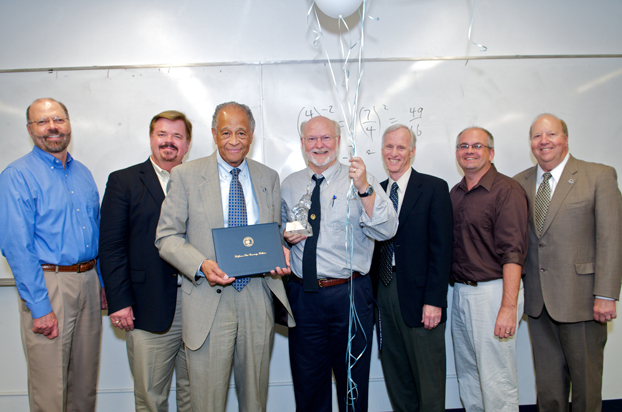 Caption: Martin Bonsangue, professor of mathematics and this year's recipient of the Outstanding Professor Award, center, is all smiles as he poses with President Milton A. Gordon, holding certificate, and others from around the campus. Also pictured, from left, are Paul N. DeLand, chair and professor of mathematics; Laurance M. Timm, professor of music and chair of the Outstanding Professor Committee; Robert Koch, acting dean of the College of Natural Sciences and Mathematics; Stephen J. Stambough, associate professor of political science and vice chair of the Academic Senate; and Steven Murray, acting vice president for academic affairs. Photo by Robert TranDownload Photo
Martin Bonsangue Named Outstanding Professor
Educator Strives to Empower Students Through Development of Math Skills
May 9, 2011 :: No. 143
Martin Bonsangue, professor of mathematics at Cal State Fullerton and a longtime champion of developing better mathematics teaching skills for elementary, middle school and high school teachers, is the recipient of this year's Outstanding Professor Award, the highest faculty honor bestowed by the university.
Bonsangue and students in his abstract algebra class were surprised last week when President Milton A. Gordon — joined by a group of campus administrators and professors — entered his classroom, carrying a crystal elephant and blue and white balloons.
Addressing the students, Gordon announced: "Your professor has been selected as Outstanding Professor of the Year. What do you think about that? Do you agree?" The students broke out in applause; some even whipped out camera phones to memorialize the occasion.
Bonsangue, a resident of Yorba Linda, appeared surprised and happy.
Bob Koch, acting dean of the College of Natural Sciences and Mathematics, teased his colleague. "Marty, I don't think I've ever seen you speechless before."
"Don't worry," quipped Bonsangue. "It won't last."
It's this kind of enthusiasm and quick wit that has helped Bonsangue earn high praise from the students he has taught during his 19 years at Cal State Fullerton. Prior to joining the university, he taught math at middle and high schools.
Focus on Sharing Fun and Power of Mathematics
After the celebratory presentation, Bonsangue and his students got back to work.
"The students made some nice comments and that was great," said the honored educator. "But we stayed on the horse and got some things done following the announcement."
Bonsangue is well-known throughout campus for his mission of reaching out to all students, preferably at an early age, to help them discover the power and fun of mathematics. He works closely with university professors, middle and high school teachers to start working early with youth to develop their math skills.
"Most people know about my passion for broadening participation in mathematics," Bonsangue said. "In other cultures, there is an expectation that you will be successful in mathematics. But in America, I still find that many believe some people are born with a 'math brain' and others aren't. There's an innate belief that some people can — and others can't — do math.
"I find that odd. As my colleague David Drew has written, we expect almost everyone to be successful in getting their driver's license. While some folks may be better drivers than others, the fact is that pretty much everyone is successful in getting a license," he added. "We don't have an assumption that there are just some people who can't be taught to drive."
Throughout his career, Bonsangue's work has centered on broadening student participation in mathematics and math-based fields. As a first-generation college student from an urban area in Los Angeles, he saw firsthand how an understanding of mathematics principles could empower students to achieve academic success.
"In my first teaching job in La Puente, most of my middle school and high school students were Latino, and many had limited financial means. In higher-level math courses, many of my students were girls," he said. "I began to understand the power that success in mathematics could provide for people who have been traditionally underrepresented in mathematics.
"Knowing that mathematics is generally recognized as the primary obstacle to student success, I was motivated to try to reverse this trend."
Reaching Out to Younger Students and Their Teachers
To that end, Bonsangue has been involved in various projects designed to help younger students learn to understand and enjoy mathematics. He has worked with a number of local elementary, middle and high school teachers to help them develop math programs that appeal to youth and get them excited about math at earlier ages.
"We found many teachers with a great liberal arts background that often only have basic experience in teaching math," he said. "Our goal is to prepare these teachers to teach more upper-level math classes and get their students excited about the subject."
To achieve these goals, Bonsangue has applied for, and received, more than $8 million in grants to carry on this work.
"At all levels of instruction, Dr. Bonsangue's students have complimented him on his ability to explain, inspire and communicate," said Paul DeLand, chair and professor of mathematics. "He has the ability to connect with all of his students and to motivate the diverse audience in his classes. Some of his adult students refer to him as 'Uncle Marty' out of genuine respect for his ability to make them feel comfortable around him."
In addition to a full teaching load and numerous grant-funded projects with local schools, Bonsangue has authored 21 peer-reviewed articles in mathematics education journals, four book chapters, five papers in conference proceedings, six major technical reports and seven articles co-authored with his students.
Like many in his field, Bonsangue is concerned about the nation's decline in the disciplines of science, technology, engineering and math. He has met with several members of Congress, as well as members of the House Science and Technology Committee, to share his research addressing how achievement gaps in the STEM fields can be closed.
What Keeps Bonsangue Going?
"My students have had a huge impact on me," he said. "They have such great insights. Sometimes, based on their backgrounds and diverse cultures, they'll see a problem differently and ask, 'Dr. B, why is such and such?' And sometimes I have to ask myself, 'Why indeed?' They bring perspectives I don't have.
"I've also been fortunate to work with phenomenal colleagues who don't necessarily receive awards but are doing amazing things."
What comes across to almost everyone who meets Bonsangue is his deep, abiding love of not only mathematics but of teaching.
"I think students recognize whether or not you're passionate about the subject you're teaching," he said. "You need to have fun and really enjoy what you're doing. You have to believe that what you're teaching really matters. It's not a matter of 'this is what I teach.' For me, a teacher is who I am."
Bonsangue earned his master's degree in mathematics from Cal State Fullerton with a concentration in teaching math. He holds a Ph.D. in mathematics education from the Claremont Graduate School.
Recognition at Commencement
As the 2010-11 Outstanding Professor Award recipient, Bonsangue will be recognized at the university's May 20 Honors Convocation and lead the faculty at the May 21 and 22 commencement ceremonies. He will receive a $4,000 cash award from the President's Associates and present a public lecture next spring.
Bonsangue plans to use the $4,000 award to begin a scholarship fund for first-generation college students pursuing careers as math teachers.
# # #
Media Contact:
Valerie Orleans, Public Affairs, 657-278-4540 or vorleans@fullerton.edu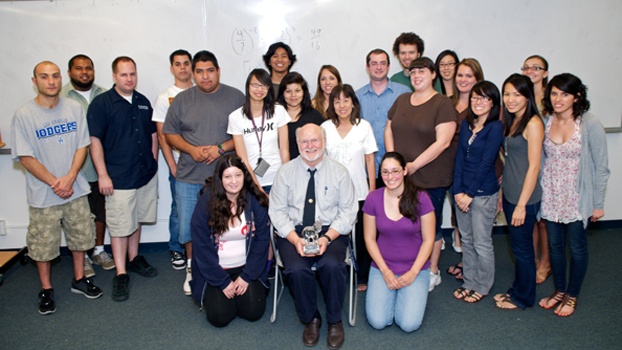 Caption: The Outstanding Professor Award recipient surrounded by students from his class. Photo by Robert Tran