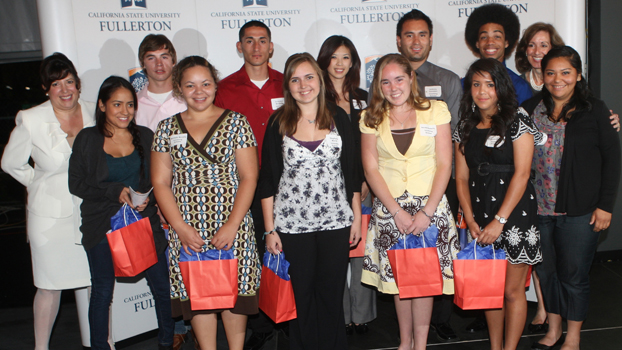 Caption: Guardian Scholars Program leaders Grace Johnson, far left, and Giulii Kraemer, far right, welcome the newest class of scholars this fall. Pictured from left, are: Roxanne Romero, Dean Sanchez, Michelle Murphy, Cristobal Martinez, Stephanie Martin, Alina Jin, Nichole Doherty, Anthony Gonzalez, Briana Carrera, Timothy Alexander and Erica Ontiveros. Not pictured is Tara Ibe. Photo by Karen TapiaDownload Photo
Guardian Scholars Welcomes 12 Students This Fall
Emancipated Foster Youth Pursue College Education Dream
Sept. 12, 2011 :: No. 19
This fall, a dozen young adults are working toward the dream of a college education with the support of Cal State Fullerton's Guardian Scholars Program.
With the addition of the new scholars, a total of 38 students are currently part of the program, founded on campus in 1998 in collaboration with Orangewood Children's Foundation to assist former foster youth pursuit a college education.
Since the program's inception, 73 students have earned undergraduate degrees, and three more are expected to complete their studies in December.
Primarily supported by private donors and community partners, the program is committed to assisting ambitious, college-bound students exiting the foster care system through scholarships and housing, as well as a nurturing environment in which students can develop the educational and interpersonal skills to be successful in college and in their personal lives and careers.
"The reason the Guardian Scholars Program continues to thrive is because a key network of individuals, staff, faculty, administrators and donors work collaboratively in providing unique support services this population needs to be academically successful," said Grace Johnson, Guardian Scholars director. "I am very excited to welcome our new 2011 cohort of Guardian Scholars."
The newest scholars — from Orange, Los Angeles and Riverside counties — include current Cal State Fullerton students, first-time freshmen, as well as transfer students from local community colleges.
The 2011 scholars, including their class level and major, are:
Timothy Alexander, sophomore, theatre arts
Briana Carrera, freshman, undeclared
Nicole Doherty, freshman, mathematics
Anthony Gonzales, junior, business administration
Tara Ibe, junior, health science
Alina Jin, senior, international business
Stephanie Martin, freshman, child and adolescent studies
Cristobal Martinez, freshman, criminal justice
Michelle Murphy, junior, psychology
Erica Ontiveros, freshman, criminal justice
Roxanne Romero, junior, criminal justice
Dean Sanchez, freshman, pre-business
More information about the Guardian Scholars Program is available online.
# # #
Media Contacts:        
Grace Johnson, Guardian Scholars, 657-278-5493 or gjohnson@fullerton.edu
Debra Cano Ramos, Public Affairs, 657-278-4027, 657-278-2414 or dcanoramos@fullerton.edu