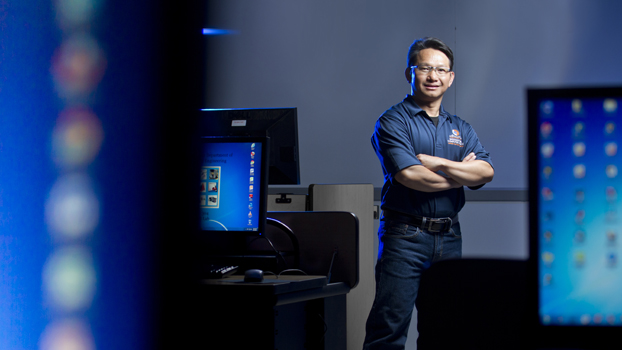 Caption: Thao Nguyen, information technology consultant in the College of Engineering and Computer Science, is one of this year's Outstanding Staff Award recipients. Photo: Matt Gush Download
Titan Excellence
Thao Nguyen Named a 2012 Outstanding Staff Member
Thao Nguyen is described as being self-motivated, helpful, inspiring, enthusiastic, a problem-solver and a "prized" staff member in the College of Engineering and Computer Science.
Dean Raman Unnikrishnan called him a "miracle worker who finds creative solutions to impossible tasks ... His enthusiasm for his job is evident by all who know and work with him."
Prasada Rao, chair and associate professor of civil and environmental engineering, notes: "His commitment and ability to work with all faculty and staff members have helped the department to successfully implement various initiatives."
For his exceptional work, Nguyen was honored earlier this month as one of three Outstanding Staff Award recipients. Two other staff members, Mony Nhong of Information Technology and Gerald Bryant of Educational Partnerships, also received the award. An article on Bryant's accomplishments is forthcoming.
Nguyen, an information technology consultant for both the Civil and Environmental Engineering and Mechanical Engineering departments, says he is simply doing his job. He enjoys resolving technology issues and tending to IT needs within the college.
"To me, Cal State Fullerton is the best place to work. We have a very friendly working environment where everyone tries to help each other. To work as an IT consultant in the college is like a dream come true. I'm able to utilize my experience and my education to help our students and our college," said Nguyen, who earned a M.S. in electrical engineering in 2006 from Cal State Fullerton and has 17 years of experience in information technology.
The Lakewood resident, who immigrated to the United States in 1985 from Vietnam, is married and has a daughter. He joined the university in July 2000 and worked as an IT consultant for the Geological Sciences Department. He left in 2006 to pursue other interests, but returned to campus a year later and worked on the IT help desk and for the Administration and Finance Division.
In 2010, Nguyen joined ECS, where he oversees the student computer labs to ensure they are up and running for daily classes. He also works closely with other IT staff members to provide technology services to students.
Benhnoud Lahiji, who earned a B.S. in mechanical engineering in May, said Nguyen's contributions to students are "beyond exceptional."
"His willingness to help out students with their technical needs has always been talked about with the student body," Lahiji said.
Nguyen also has managed the renovation of three student computer labs to the latest technology. One of the upgrades needed to be completed by the 2011 spring semester. Unforeseen issues threatened completion of the project on time, but Nguyen worked around the clock to ensure the lab was ready when students returned to class.
"It was an unbelievable achievement," Unnikrishnan said.
Receiving the Outstanding Staff Award is an honor, said Nguyen, who received Titan Excellence Awards in 2004 and 2010, as well as a 2012 honor that made him eligible for the top award.
"But this award is very special; it is the best award in my career. It means a lot to me that I have done something that is a benefit to our students and our college."
June 7, 2012