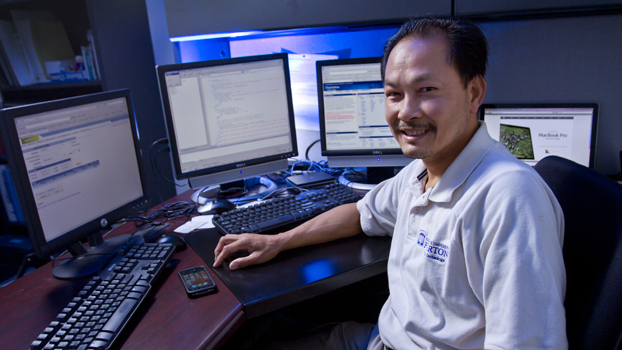 Caption: Mony Nhong, analyst and programmer in Information Technology, is one of this year's Outstanding Staff Award recipients. Photo: Matt Gush Download Photo
Awarding Outstanding Staff
Nhong Delves Into Software Codes to Help Campus Departments
Mony Nhong, analyst and programmer in the Information Technology Division and one of three recipients of this year's Outstanding Staff Award, enjoys not only challenges, but learning something new in pursuit of a solution.
"I love technology and love new things," said the Tustin resident. "That's why it's fun to work on campus; there are so many opportunities to work with new technology."
Nhong is one of the Enterprise Resource Planning development support staffers on campus who work with CMS (Common Management System), the systemwide software programs used in student administration, finance and human resources. He is the chief development support person for the human resources programs, working with the code when a problem arises within the Oracle PeopleSoft software. When Nhong finds a problem, he delves into possible solutions, working closely with the Chancellor's Office. Some of his solutions have been incorporated throughout the California State University.
"One of Mony's greatest assets is his creativity," said Joseph Luzzi, technical lead for the CMS Project on campus, who nominated Nhong. "He will research and experiment with many solutions before deciding on the best approach to take and will include ideas of his own. It is not enough that the project requirements are met. Mony insists on providing elegant and efficient solutions to all the tasks he is assigned."
Among the examples of Nhong's work, Luzzi mentioned his development of a prototype system to support mobile application access to PeopleSoft and his work on a file transfer application that provided an interface through the use of file share and a secure file transfer protocol.
"He is a student of technology, eager to stay current and willing to learn and become proficient in new technologies," said Luzzi. "The best part is he is always happy to share what he has learned with his co-workers or anyone else in the campus community."
Nhong, who earned his bachelor's degree in computer science in 1994 and a master's degree in 2008 from CSUF, served in a wide range of positions in private industry prior to joining his alma mater as a staff member in 2002. At the time, Nhong thought he would be here temporarily, but year after year, he has stayed because he enjoys what he does.
"The people I work with are very nice," the married father of two boys says from his office in Langsdorf Hall. Before coming to CSUF, Nhong said he kept trying to find a workplace that he could call home. "This is home. I can't ask for anything more."
The other recipients of this year's Outstanding Staff Awards are Gerald Bryant, director of the university's McNair Program, and Thao Nguyen, information technology consultant in the Mechanical and Civil and Environmental Departments. Articles on their accomplishments are forthcoming.
June 6, 2012