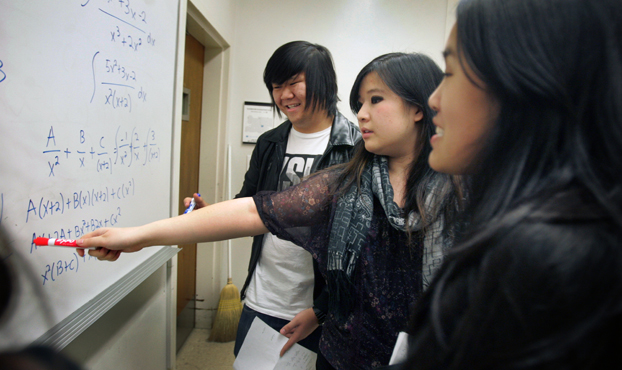 Caption: SI Program peer leader Jenny Chang, center, points to an equation during an advanced calculas session with peers Henry Pham and Christine Nguyen. PHOTO: KAREN TAPIA Download photo
Making STEM Make Sense
Peer-to-Peer Study Program Builds Academic Success
Inside a chemistry classroom in McCarthy Hall, student Elizabeth Shuman is in front of her peers, writing formulas on the whiteboard and posing complex questions about organic chemistry. The post-baccalaureate student, who is pursuing a career as a physician, explains, step-by-step, the concepts of chemical reactions and synthesis. Her peers listen intently, take notes and answer the difficult questions.
On another day in a different classroom, math major Jenny Chang, who is planning a teaching career in higher education, reviews calculus problems on the whiteboard, leading her peers through the complex math concepts they've learned in class.
Biochemistry major Erica Hernandez readily admits that the calculus II course she took during the fall semester was extremely difficult — but necessary to pass in order to continue her studies in the sciences. "Calculus is a hard subject to learn, and this course has more complex ideas you have to know," said Hernandez, who is working toward a career in medicine.
To get the extra help she needed to understand and succeed in the mathematics course, she turned to the Supplemental Instruction Program, known as SI, offered through the College of Natural Sciences and Mathematics.
Why SI?
"Supplemental Instruction helps students pass gateway courses, which are traditionally difficult courses with high failing rates," said Mark S. Filowitz, associate dean of the College of Natural Sciences and Mathematics. "Moreover, the program helps to improve academic performance, increase retention and graduation rates in STEM majors, and encourage students to pursue careers in STEM disciplines."
Filowitz, Martin V. Bonsangue, professor of mathematics, and Sean Walker, associate professor of biological science, lead the college's SI Program, along with several faculty members who help coordinate and oversee the SI student leaders who perform the peer-led instruction for STEM majors.
The STEM focus also reflects Cal State Fullerton's heightened emphasis on increasing student interest in these fields.
In the U.S., there is a critical shortage of students studying and pursuing careers in STEM fields, Filowitz said. Often, students get discouraged from majoring in STEM disciplines and becoming scientists, mathematicians and engineers because of the tough college coursework.
Caption: Graduate student and SI leader Elizabeth Shuman leads a chemistry session as part of the Supplemental Instruction Program at Cal State Fullerton.
This is where peer leaders, like Shuman and Chang who have already taken the courses and earned high marks, can make a difference. Through SI, students get extra academic help and support to overcome the hurdles of challenging introductory science, math and engineering courses, Filowitz explained. "Even though jobs are plentiful and professionally rewarding in these fields, students can be discouraged in the short term, particularly first-time freshmen and new transfer students who may not have learned good time management and study skills."
SI is not a tutoring or remedial program, but an innovative and inspiring way to engage students to work together in group sessions with peer mentors to better understand course content and improve study skills and grades, Bonsangue said.
By having students work in a small group with their peers to review course content — and to admit what they don't know — works to pull up grades and course knowledge, Walker said.
Benefits/Rewards
"Students view SI leaders as being successful in these difficult courses and as someone who will help them out. As a result, the weekly sessions give the students structure in building their studying skills and to learn from each other," Walker said.
Todd CadwalladerOlsker, assistant professor of mathematics and a faculty coordinator of the math SI program, said another program benefit is that the students form learning communities to foster their own academic success. "These learning communities might be temporary, but they learn the importance of working together for success."
For STEM majors leading the sessions, they have found that they are better prepared for upper-division courses and take the skills learned into their future careers, CadwalladerOlsker said.
SI leader Emanuel Gluckman, a third-year biological science major pursuing a career as a dentist, took advantage of SI in some of his first-year science classes and knows the benefits. "After seeing firsthand how much SI can help students understand important concepts, I thought it would be a great opportunity to become an SI leader myself. Sure enough, being an SI leader has been very rewarding, especially when you see the impact that your time and work has on other students," said Gluckman, one of 22 biology SI leaders last semester.
"As with anything else though, SI provides some challenges. Some of the most common obstacles include constantly finding more effective ways to explain challenging concepts to students so that they can achieve maximum success, as well as trying to adapt to the different learning styles of your students."
Data shows improved retention in STEM courses and majors, as well as higher grades in introductory STEM major courses for those students enrolled in the voluntary SI program, Filowitz added. (See sidebar.) In addition, Bonsangue, the university's 2010-11 Outstanding Professor Award recipient, will conduct a longitudinal study on the program's impact on retention and college graduation rates.
The SI student leaders, who work closely with faculty members teaching the targeted courses, commit up to 10 hours a week to the program, which includes attending class lectures to take notes and facilitating the informal study sessions of up to 15-20 students. Each leader is paid up to $1,500 per semester.
Shuman, who holds a bachelor's degree in music with a concentration in voice from Cal State Long Beach, said she enjoys assisting her classmates. But, just as important, she said, are the skills she is gaining. "The communication and leadership skills I work on every day leading SI will help me to more closely relate to and communicate with patients and fellow professionals in the medical field," she said.
Chang, a junior, agreed. "My experience over the past three semesters as an SI leader has helped me gain insight into the minds of students, which will allow me, in the future, to become a better professor by creating lesson plans that are very student-friendly."
For all students involved, the program is a win-win, Walker added. "We've tried to figure out different ways to help students, and SI is the only thing that works — and we have good evidence that it does work."
Students interested in SI can contact Martin V. Bonsangue at mbonsangue@fullerton.edu or 657-278-2728, or Sean E. Walker, 657-278-3610 or swalker@fullerton.edu.
Jan. 19, 2012