Caption: This video, by Titan Communications, documents the Feb. 6 campus reception for Milton A. Gordon and his wife Margaret Faulwell Gordon.
Campus Says Farewell
Gordon Feted With Appreciation Tribute
In a heartfelt tribute to former Cal State Fullerton President Milton A. Gordon, members of the campus community recently paid tribute to the man who led the university for 21 years.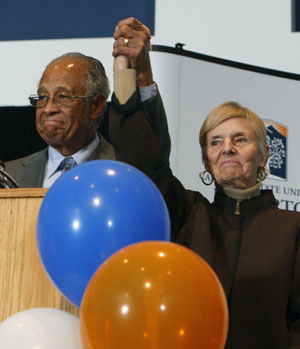 Caption: Milton A. Gordon and Margaret Faulwell Gordon at a campus farewell reception in their honor. Photos: Karen Tapia Download Photo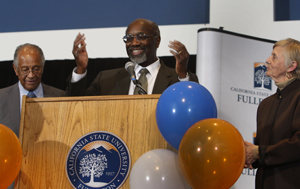 CSUF's interim President Willie J. Hagan leads a round of applause for the Gordons. Download Photo
Caption:C
"This university owes much of its remarkable growth and success to President Gordon," Willie J. Hagan, CSUF's interim president, told hundreds of Gordon's friends and fans, who gathered Feb. 6 in the Titan Student Union for the farewell tribute to Gordon and his wife, Margaret Faulwell Gordon. "His many accomplishments over the course of his presidency are testament to his role as academician, skilled administrator, transformational leader and visionary. President Gordon has devoted his life's work to higher education and, as he so often reminds us, so much of what he has accomplished has been with his wife, Marge, at his side."
Hagan led the first of several standing ovations for the Gordons, who were given gifts — among them a computer, a printer and a framed photograph of themselves on campus.
"Dr. Gordon has changed the face of Cal State Fullerton," said Paul Carter (B.A. political science '92), president of the university's Alumni Association. "In the process, Dr. Gordon has changed lives. I know I'm a better person because of his leadership as are the 122,000 other students who graduated under his presidency... Dr. Gordon is the Titan among us."
Other speakers included Annette Feliciani, president of AEF Systems Consulting, Inc. and past chair of CSUF's Philanthropic Foundation Board of Governors; student Eric Niu, president of Associated Students, Inc.; and Frank Mumford, executive director of the university's Auxilliary Services Corp. Tribute videos were played between speeches.
Also, cellist Bongshin Ko, associate professor of music, accompanied by pianist and graduate student Nick de Palacio, serenaded the Gordons with "After a Dream" by Gabriel Faure.
Well-wishers lined up to shake hands, hug and thank the Gordons.
"You deserve much health and you deserve much happiness," said Jack Bedell, emeritus professor of sociology and chair of the Academic Senate. "Milt and Marge, you both can honestly say that you have had a deep impact on hundreds of thousands of human beings and for that, we are most grateful."
Feb. 7, 2012