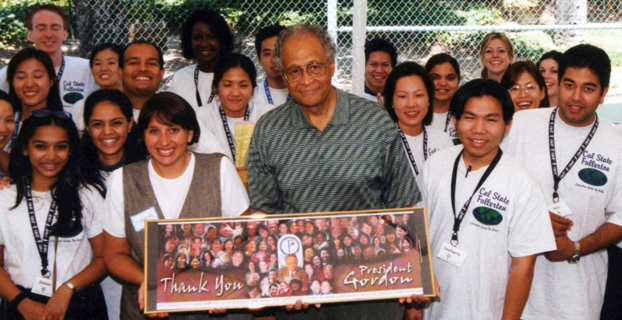 Caption: A group of students thanks President Milton A. Gordon for his support in 2002.Download Photo
Tributes and Testimonials
Campus and Community Testify to President Gordon's Impact
Upon hearing that President Milton A. Gordon plans to retire, campus members, elected officials and community members reacted. The following are a few of their comments.
John (Jack) W. Bedell
Academic Senate Chair and Emeritus Professor of Sociology
I offer my congratulations on this momentous and professional decision and deepest thanks to Dr. Gordon for incomparable leadership that has transformed CSUF for the 21st century. Given his tenure of 22 years at CSUF, during which he has led us to national prominence, I must respect that he and Marge certainly deserve free time to do the things they enjoy. After over 8,000 days as our president, Milt has definitely earned the right to determine his own agenda and how he spends his time. He has presided over the incredible changes this campus has undergone and often under very difficult budgetary considerations. No one can deny his accomplishments. They include and clearly are not limited to: strongly supporting student access and providing leadership resulting in our campus being ranked 5th nationally for awarding bachelor's degrees to minority students; growing student enrollment to over 36,000 annually; hiring almost 900 new tenure track faculty; granting almost 130,000 degrees; adding over 863,000 square feet of instructional space; receiving almost 490,000 applications for admission; vigorously supporting research especially that which involved students and adding almost 600,000 volumes to the University library; promoting internationalization of the curriculum and providing equity pay increases while other campuses did not. In addition, Dr. Gordon established the Division of Information Technology and championed the implementation of the state of the art network infrastructure in 1997, the first in the CSU. So while I respect his decision, I regret that we will not have the chance to continue to work together to serve the students he so champions and the faculty for whom he has so much respect. Marge and Milt Gordon have been dedicated members of the Titan family and will always enjoy the respect and friendship of those who had the pleasure to call them friends and colleagues.
The strong legacy Dr. Gordon leaves is something the CSU and our campus can build on together through the selection of our next President. I know I speak for my campus colleagues when I say we look forward to working with Chancellor Reed and the Board of Trustees in the presidential selection process. Our campus has a long tradition of collegiality, open debate, access and excellence. By building on what Dr. Gordon has championed and accomplished, together, we can take CSUF to its next level where student success will continue to be preeminent.
Jacqueline Otis
President and Chief Steward of CSUEU
I started to work at the university on the day of President Gordon's first convocation. President Gordon had been here for one year, he was presenting the convocation and it was my first day of employment. So I just feel extremely close to him. He has been totally supportive of me for 20 years.
Miguel Pulido
Mayor of Santa Ana and CSUF graduate (B.S. engineering-mechanical '80)
He has been so instrumental in the growth and progress of Cal State Fullerton, in particular in the diversity that he brought to the staff and the student population. As an alumnus, I so much appreciate his steadfast leadership. He has just been a giant and has done an absolutely amazing job.
Willie J. Hagan
Vice President, Administration and Finance/Chief Financial Officer
One of the reasons I came to Cal State Fullerton 16 years ago was to work with President Gordon. When I considered applying for the VP position here, a friend of mine, a President in the other CSU (Connecticut State University), spoke very highly of President Gordon and encouraged me to apply. When I interviewed with President Gordon I was impressed with his commitment to student access and his friendly and collegial approach to leadership. I accepted the position and have enjoyed my time here ever since.
There is no question that President Gordon has been an outstanding president for Cal State, Fullerton. The build out of the campus over the years in terms of enrollment, new buildings and excellent academic programs is a direct result of President Gordon's efforts to hire and support talented faculty and staff and his ability to work with faculty and student leadership. Despite the multiple bad budget years the campus faced over the course of his 21 years here, President Gordon has persevered in championing student access and student success. President Gordon expressed his great pleasure at having been the president of Cal State Fullerton. I think it's fair to say that the pleasure has been all ours.
Steven N. Murray
Acting Vice President for Academic Affairs
The strong legacy Dr. Gordon leaves is something the CSU and campus can build on through the selection of our next President. I know I speak for my campus colleagues when I say we look forward to working with Chancellor Reed and the Board of Trustees in the presidential selection process. Our campus has a long tradition of collegiality, open debate, access and excellence. By building on what Dr. Gordon has championed and accomplished, together we can take CSUF to its next level where learning will continue to be preeminent.
It is with a great degree of sadness to learn today that President Milton A. Gordon will be retiring after 22 years of service at California State University Fullerton. As a 40 year veteran of the campus, I know I will miss his leadership and the quiet, deliberate and collaborative way he has moved CSU Fullerton to its current place at or near the top of the list of the 23 CSU campuses. California State University Fullerton is now regarded as one of the signature campuses in the west and we owe this to him. His tenure as President occurred during a time of dramatic change. This included: change in the funding model for the CSU and the campus – we are now very much less dependent on state funding; change in the makeup of our student body, which is now highly diverse with no real ethnic or cultural majority; and change in the physical nature of the campus, during his administration we have significantly grown and improved campus infrastructure.
President Gordon has always held the premise that a great campus must have a great faculty and he has done much, particularly in the last decade, to support faculty. He has launched programs to hire new tenure-track faculty in large numbers, even during poor budget times. He has allocated funds to support these new faculty in their transition to tenure-track positions while at the same time making funds available for tenured faculty to pursue their scholarly interests and to grow and develop as professionals. This is good for them and importantly good for our students who have the opportunity to learn directly from faculty who are active in their professions. Today, he indicated his commitment to faculty scholarship by establishing a 1 million dollar fund to support faculty scholarly and creative activity. He will leave a large and permanent footprint on this campus. However, most of all I will miss my interactions with him. Above all, President Gordon is a very nice and principled person and one who I have enjoyed working with a great deal.
Pamela Hillman
Vice President for University Advancement
While I think Dr. Gordon and Marge (his wife) deserve to retire and enjoy their time together, I know it's going to be hard for Cal State Fullerton to lose him. During his time here, he's made so many positive changes. I, personally, have mixed feelings. He's the only boss I've had at Fullerton and he's been so supportive of Advancement and of me personally over the years. I'll miss him terribly. Still, I want him to to be able to enjoy his richly deserved retirement and I wish him all the best.
Throughout the years, we've had many good times together. One of the funniest memories I have is when we went to Nevada to see Steve Mihaylo to ask him to donate $30 million to name what is now Steven G. Mihaylo College of Business and Economics. I'll admit, we were all a little nervous. I'll never forget when I asked Steve, "Are you just going to write me a check for $30 million today?" I thought Dr. Gordon was going to faint. We all laughed like crazy. Another funny comment came because we attended so many lunches and dinners, he would joke that he didn't know there were so many ways to prepare chicken. That ability to stay positive and make the best in every situation — even during times of tough budget decisions — has served the campus well.
Thomas P. Klammer
Emeritus Dean of the College of Humanities and Social Sciences
Dr. Gordon's presidency has transformed the campus, moving it in every way from one century to another. Through all the changes that he led and encouraged, one theme rang loud and clear: the mission of Cal State Fullerton was access with quality. The campus became home to record numbers of students of every ethnicity and national background, of all ages, and without regard to family income. At the same time, at his urging, academic programs increased steadily in quality, international programs multiplied, and the university competed for the best faculty available. I am deeply moved at his decision to retire at this time. And I am proud and grateful to have been able to work for so many years in support of the goals that he articulated and embodied.
Doug Simao
Chair of the Cal State Fullerton Philanthropic Foundation
"With President Gordon's leadership, Cal State Fullerton has generated more than $179 million in private philanthropic support, a legacy that promises to yield benefits far into the future. And the university's endowment is $32.3 million, up from $1.67 million in 1990 – an impressive 95 percent increase."
Jerry Samuelson
Emeritus Dean of the College of the Arts
I appreciated so much his support when we were trying to get funding for the Performing Arts Center. His constant support through that was something that I will always remember. It was a defining moment in my life, and I think a defining moment for Performing Arts for Cal State, so all of his efforts were certainly appreciated by all of us in the arts. Nothing in all my years can compare to the joy of that — once we received the word that the funding had been approved and that we were actually going to build the Performing Arts Center.
James D. "Jim" Young
Emeritus professor of theatre and founding chair of the Department of Theatre and Dance
Milt Gordon courageously moved into the role of leadership that would unite the university community. Over and again, I have heard him give credit and appreciation to the visionaries and dreamers who set the dream in motion. He incorporated all that had gone before, with his own ability to adapt to a rapidly changing future. To clarify the purposes and the means by which to achieve them, he involved alumni, emeriti, students, faculty, staff and community leaders in defining a mission statement that would focus on excellence. Like a mayor in a city of 45,000 people (to say noting of the many relationships not directly involved on campus), he has been an outstanding listener. He has been respectful of differences of opinion. He has delegated responsibilities wisely. He has promoted diversity, internationality, excellence, sensitivity, collegiality, fairness, and a sense of community among the complex needs that are a part of what it means to BE a university.
Arnold Miller
Retired Corporate Vice President for Xerox Corp. and longtime Chair, University Advisory Board
One of many fond memories I have of our 22-year relationship is our regular meeting every two weeks for breakfast. We would have the senior sunrise breakfast at Coco's, and we would talk about issues and alternatives. I would get his perspective, and I would share perspectives I perceived as a community member. These breakfasts became a tradition that went on for many years. Many of the activities during his presidency built on these long- term breakfast discussions. It was a thoroughly enjoyable relationship, and he was wonderful to work with.
Annette Feliciani
President, AEF Systems Consulting Inc. and past Chair, Cal State Fullerton Philanthropic Foundation Board of Governors
Cal State Fullerton would not be the higher education institution it is today without the guidance, direction and leadership of Dr. Gordon. Cal State Fullerton has been the trendsetter for the Cal State system and that is due to one man. I am proud to have served as the board chair of the Philanthropic Foundation for four years and work closely with Dr. Gordon. I consider him to be a great man and a great friend. While I will miss his influence, I know that he has set the foundation for the next president, as well as all future leaders of Cal State Fullerton.
Amir Dabirian
Vice President for Information Technology/CIO
I have been on campus 26 years, and it has been my pleasure to report directly to President Gordon for the past six years. While the announcement of Dr. Gordon's retirement is disappointing for those of us who have worked with him, under his leadership, the management of Administration and Finance, Student Affairs, Academic Affairs, University Advancement and Information Technology has been extremely effective and efficient. Dr. Gordon epitomizes The Fullerton Way — a tradition of collaboration, collegial governance and shared voice. His understanding of the need for both technology infrastructure and the strategic uses of state-of-art technology to enable teaching and learning has been visionary.
President Gordon understands the wider impact of technology on learning, as well as job preparedness of today's graduates, assisting current students to learn and enticing prospective students to join the CSU family. His vision of technology infrastructure brought the campus its first state of art fiber network infrastructure. Under his leadership, technology has expanded with upgrades in the current Learning Management System enabling several online degree offerings and 24/7 access to learning materials for all students. In today's age of advanced technology and portable connectivity to people and information, President Gordon's vision of technological innovation transformed the campus into a "model 21st Century learning environment."
On a personal note, I am grateful for his friendship, mentorship and guidance. Dr. Gordon is a caring leader with superior judgment and far-reaching vision. He is an example of the leader that I strive to be.
Owen Holmes
Associate Vice President for Public Affairs and Government Relations
President Gordon has a longstanding commitment to supporting advocacy on behalf of the university. When he formalized a department to focus on government relations, he set into motion the vision that would allow Cal State Fullerton to seek direct federal funding for the campus, work closely with state legislators on bills to enhance higher education, and focus on community outreach. These actions have enabled the university to develop partnerships with external programs and organizations for mutual benefit. His vision has created a lasting impact that benefits the students of Cal State Fullerton as well as our local communities and the state of California, as our graduates go on to become productive members of the workforce.
Anil K. Puri
Dean of the Mihaylo College of Business and Administration
President Gordon has provided Fullerton with a steady leadership over a long period that has resulted in remarkable growth of the campus. His leadership is evident in not only the significantly larger physical capacity of the campus, but also in the diversity and size of its faculty and student bodies. His legacy of a transformed campus sets the stage for its hopeful future.
Arthur A. Hansen
Emeritus Professor of History and Asian American Studies
My two-decade association with President Gordon revolved around the History Department, the Center for Oral and Public History, the Asian American Studies Program, and Titan Baseball — all of which he greatly enriched through his quiet, self-effacing, caring, and cosmopolitan leadership.
Sept. 15, 2011 | Updated Sept. 18, 2011