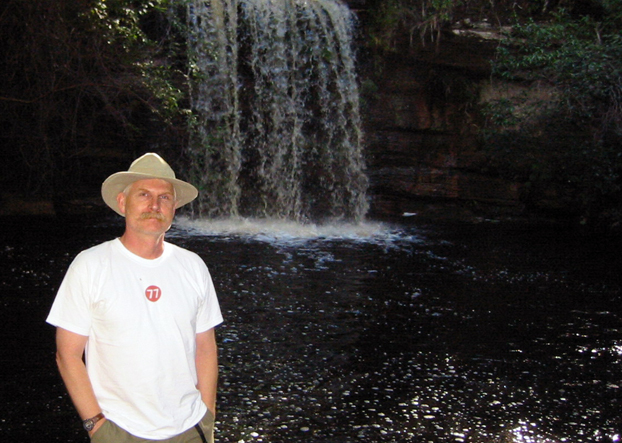 Caption: Robert A. Voeks, professor of geography, has been conducting research in Brazil for decades.
Building a Bridge to Brazil
Faculty Explore Opportunities for International Collaboration
Cal State Fullerton faculty members from seven of the university's eight colleges and University Extended Education have launched an exploratory effort to identify international partnership opportunities with colleges and universities in Brazil.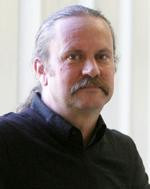 Caption: Mitch Avila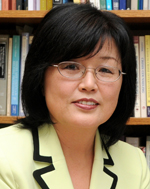 Caption: Mikyong Kim-Goh
Acting under the aegis of a committee chaired by Mitch Avila, associate dean of the College of Humanities and Social Sciences, and Mikyong Kim-Goh, acting associate vice president for international programs, CSUF faculty and administrators are actively seeking to increase scholarly and programmatic cooperation between academics in both countries.
To assist the effort, the committee has contracted with the Institute of International Education (IIE) for a range of data-gathering, networking, educational and training programs and services to advance the formation of partnership efforts with colleges and universities in Brazil.
Founded in 1919, IIE is a private nonprofit organization that collaborates with governments, foundations and other sponsors to create international programs of study and training between colleges and universities in the U.S. and counterpart institutions in countries outside the U.S.
The institute's Brazil International Academic Partnership Program has guided the committee in conducting a campuswide survey and will include two Cal State Fullerton committee members — Joao Barros, assistant professor of kinesiology and Robert A. Koch, acting dean of the College of Natural Sciences and Mathematics — on its guided study tour to Brazil later this spring.
Members of the committee include: Barros; Dean Kazoleas, associate professor of communications; Murtadha A. Khakoo, professor of physics; Koch; Neil Kuritzky, lecturer of accounting and director of the Mihaylo College of Business and Economics' Center for International Business; Steven N. Murray, acting provost and vice president for academic affairs; Harry Norman, dean of University Extended Education; Sandra M. Perez-Linggi, associate professor of modern languages and literatures; Melinda R. Pierson, chair and professor of special education; and Robert A. Voeks, professor of geography.
Their recently conducted survey revealed that a number of faculty members have long-standing connections to Brazil through their current research projects.
Gayle K. Brunelle, professor of history, is writing a book called "Tropical Chimeras: France and Guiana, 1605-1665" under contract with LSU Press. The book will touch on how France was involved in the 16th and 17th centuries in attempting to wrest much of what is northern Brazil today away from the Portuguese. She has written a number of journal articles on related topics over the past 25 years. She created the CSUF history course "The Rise of the Atlantic World."
Nancy Fitch, professor of history, is working on a research paper about memories of the French Revolution, created as part of Brazil's transition from a monarchy to a republic. She has been working on the topic for more than 15 years, giving talks on versions of the paper at conferences worldwide and posting her project website. She also has been working with a team of Brazilian historians on the history of science, especially electricity in Brazil.
Juan R. Ishikawa, associate professor of modern languages and literatures, is researching haiku in Brazil, a subject he has been studying for many years. In 2003, he presented "Mexico y Brasil, portavoces del haiku" at the XIII Encanto Nacional de Professores Universitarios de Lingua, Literatura e Cultura Japonesa in Sao Paulo. He also teaches Portuguese.
Murtadha A. Khakoo, whose research focuses on slow electron collisions with gaseous, or vapor, targets, is studying the breakup of DNA-related bio-molecules through experiments being conducted in Fullerton and Sao Paulo. He has spent two weeks annually in Brazil for the past four years conducting his research, which is being supported by a $60,000 National Science Foundation grant.
Robert A. Voeks is working with Brazilian professors, investigating species of plants that Brazilians associate with medical, spiritual and magical properties and that are maintained in the home gardens of Afro-Brazilian practitioners of the Candomble religion. His Brazilian ethnobotony research, which has been supported by more than $150,000 in grants, began decades ago. In 1999, he spent six months in Brazil as a Fulbright Scholar.
Other faculty members also currently working on research projects in Brazil include:
Joao Barros is collaborating with researchers in Brazil on a study focusing on how variables such as feedback and self-control affect athletic performance and learning.
James Hussar, assistant professor of modern languages and literatures, is researching Jewish authors in Brazil.
Traci Statler, assistant professor of kinesiology and vice president of the International Society of Sport Psychology, is collaborating with Chinese and Brazilian colleagues on a book chapter about the provision of sport psychology services to athletes prior to Olympic games.
In addition, other faculty members across campus incorporate Brazilian history, business, environment and other topics in their courses, and some have plans to present at conferences in Brazil in the coming year.
"We have some remarkable depth in Brazil, and we aim to build on that depth to accomplish even more," Avila said, adding that the university's goal in strengthening ties with Brazil will be beneficial for CSUF, its students and faculty, as well as the surrounding region.
According to the Central Intelligence Agency, Brazil's economy outweighs that of all other South American countries, and it is expanding its presence in world markets.
"Our engagement with Brazil will not only have immediate impact on our students, but will create the basis for important economic cooperation between Orange County and Brazil through increased scientific research, trade and cultural ties. We can't afford to let this opportunity slip by," Avila said.
"We're entering a phase in international relations where the handful of major players is diminishing," he added. "Brazil is already one of the most important players in the Western Hemisphere. Building partnerships there is in the university's and the region's long-term strategic interest."
Avila said the committee is planning a public event, featuring a carnival with Brazilian films, food and dance on campus Feb. 21.
Jan. 30, 2012 | Updated April 11, 2012