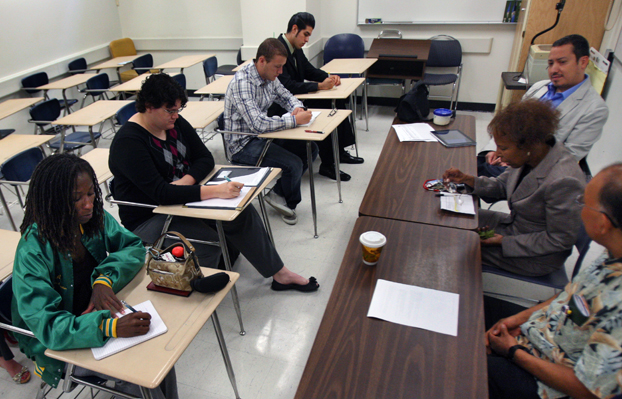 Caption: Some of this year's new McNair Scholars, seated at left, take notes at a meeting with faculty members who serve as mentors in the program. Photo by Karen TapiaDownload Photo
Intro to Undergraduate Research
Newest McNair Scholars Begin Preparing for Rigors of Grad School
Ten undergraduates have become Cal State Fullerton's newest participants in the Ronald E. McNair Scholars program.
The federally-funded program, established by the U.S. Department of Education in 1986, is named for the late astronaut who was the second African American to fly in space. The university has received more than $2.5 million in grants for the program, which was instituted at CSUF in 1999. It provides low-income and first-generation college students opportunities to seek advanced degrees.
As the newest McNair Scholars, the 10 students will take part in special seminars and will be paired with professors who will mentor, conduct research and present findings with them at conferences throughout the world. The aim is to prepare the students for admission and success in graduate school through undergraduate research projects. Some of the new McNair Scholars have already begun taking part in research studies and poster presentations in the United States and abroad.
The new McNair Scholars, their hometowns and their majors are:
Derrick Bines, Buena Park, sociology
Diego Armando Ceballos, Lynwood, Spanish and ethnic studies-Chicano studies
Cheryl Costello, Westminster, psychology
Dominique L. Johnson, Lakewood, communications and ethnic studies
Harry James Meussner III, Laguna Niguel, psychology
Cinthia T. Padilla, Paramount, physics
Skye N. Parral, Gardena, psychology
Caralou B. Rosen, Garden Grove, history and women's studies
Pamela Rush, Santa Ana, sociology and art
Jose Torres, Moreno Valley, political science and philosophy
The program, supported by an annual grant of $225,000 from the U.S. Department of Education, is open to participants from disadvantaged backgrounds who have demonstrated strong academic potential. Its director and staff work closely with the scholars as they complete their undergraduate requirements, and prepare for graduate school.
Gerald Bryant, director of the program, said 187 students have completed the program, and many of them have completed or are pursuing doctoral degrees.
August 16, 2011