Winning Skills
Three Students Receive Photoshop World Scholarships
Three undergraduate art majors are the recent recipients of Adobe/Photoshop World Scholarships that allowed them to attend the annual conference and expo and a one-year membership to the National Association of Photoshop Professionals. 
Melissa Santa Maria, Shuko Yoshitake and Gayle Warfield competed with students from around the world for three of the 25 scholarships awarded last month. The threesome were able to attend the 2010 event held in Las Vegas, attending advanced training in the photo software. The annual conference also featured programs on related imaging software, including Flash, InDesign and Illustrator.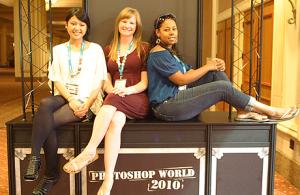 Caption: Shuko Yoshitake, Melissa Santa Maria and Gayle Warfield. Photo by Christian Hill
"It was an exciting opportunity and an all-around fantastic experience," said Santa Maria, a senior from Fullerton. "It was like packing 16 weeks of a semester education in four days! The experience also provided me with incredible inspiration and motivation to develop my portfolio!" 
Yoshitake, a senior and international student from Japan, noted, "all the classes were amazing and the scale of this event was beyond my expectations." 
"I feel like I have gained a lot of knowledge that I can apply to a range of different explorations in art," added Warfield. 
"It was a treat to see my students get so excited and share with them what I consider the best place to stay on the cutting-edge of the latest Photoshop developments," said Christian Hill, associate professor of art, who nominated the trio for the scholarships. 
In 2009, graduate students Quentin Bauer and Matiporn "May" Thamtarana received Photoshop World scholarships.
Oct. 26, 2010