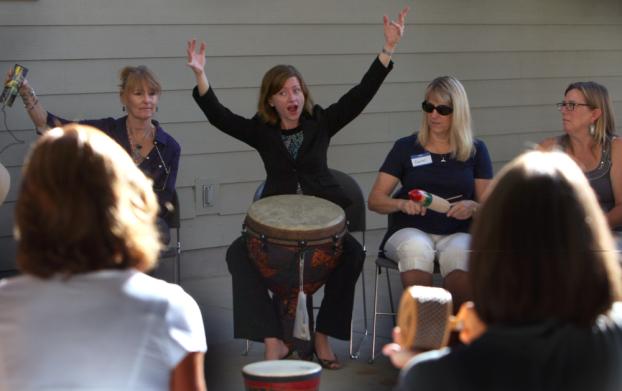 Caption: Chelsea Davis, a music arts educator, leads Fullerton School District teachers through a drum class as part of Project CREATE, a joint effort between the school district and the College of Education's SchoolsFirst Center for Creativity & Critical Thinking. Photo by Karen TapiaDownload Photo
Cultivating Creativity
Campus, School District Launch Arts Education Project
Fullerton School District and Cal State Fullerton's SchoolsFirst Center for Creativity and Critical Thinking are launching a four-year study to create a national model for arts education in K-6 schools. 
The U.S. Department of Education's Art in Education-Model Development and Dissemination Grant Program, a nationwide arts education initiative, is funding the study. 
Fullerton School District has received $271,688 in first-year funding for the study,"Children Reaching Excellence in the Arts and Academics Through Engagement," known as Project CREATE. 
It is one of 33 grants awarded nationwide and was ranked fifth from a pool of 200 grant applicants.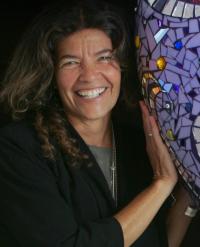 Caption: Lauralyn Eschner, Fullerton School District's visual and performing arts coordinator
Based on demonstration of project goals, the district is expected to receive additional grant funding over the next three years for a four-year total exceeding $1 million, said Lauralyn Eschner, Fullerton School District's visual and performing arts coordinator.
Expanding Current Programs
The school district is contracting with the university's College of Education to bring the project to students in second through sixth grades to boost creativity, problem-building skills and academic performance. 
Project CREATE will expand upon Fullerton School District's already established and successful arts education programs to provide students at two of the district's schools with additional lessons in music, visual art, dance, theater and digital film making. 
Raymond and Commonwealth elementary schools were selected for the project with 556 students participating. 
Eschner and Teresa Crawford, director of SchoolsFirst Center for Creativity and Critical Thinking and professor of elementary and bilingual education, are leading the project.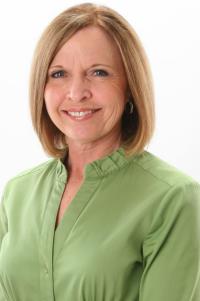 Caption: Teresa Crawford, director of SchoolsFirst Center for Creativity and Critical Thinking and professor of elementary and bilingual education
College of Education professors, Fullerton School District teachers and artist educators will focus on integrating and strengthening arts in the core elementary curricula. The project also will provide 19 district teachers with a comprehensive professional development program to bolster arts instruction. 
The SchoolsFirst Center for Creativity and Critical Thinking has developed a professional development model that supports infusing the arts and technology as central components of curriculum in K-12 schools, explained Claire Cavallaro, dean of the College of Education.
Importance of Collaboration
"By collaborating with a school district that has a proven arts education program, the center is able to implement its professional development model more broadly and to study the impact on student achievement," Cavallaro said. "The project draws upon the experience and expertise of both partners — from the school district and university — to achieve a common goal." 
Mitch Hovey, superintendent of Fullerton School District, said that Project CREATE reflects "our mutual dedication to staying cutting-edge." 
Hovey noted that the importance of arts in education is not a new idea, but it has become increasingly urgent that schools prepare students to be 21st-century thinkers who are innovative, collaborative and versatile. 
"Fullerton School District is pleased to forge a new partnership with Cal State Fullerton in pursuit of a common goal: enhancing the creativity of K-6 students and classroom teachers," Hovey said. 
The project is an extension of Fullerton School District's commitment to providing its students with arts education through the All the Arts for All the Kids program. Since its inception in 1990, the program has provided arts, music, dance and theater lessons to every kindergarten through sixth-grade child in the district. 
"Project CREATE is an expansion of that program with additional lessons, professional development and an evaluation and research component," said Eschner, a CSUF alumna (M.A. educational administration '92). "Studies have shown that children who receive a strong education in the arts consistently outperform those who do not on almost every academic measure, and through this project, we are adding to that field of research while benefiting our students."
Measuring Impact on Academic Performance
Crawford added that Project CREATE was designed to measure the connection between quality arts instruction, engagement in the arts and impact on student academic performance, specifically in reading, mathematics and the arts. 
The College of Education's Center for Research on Educational Access and Leadership will be conducting an experimental study to explore the project's impact on teacher instruction and student learning, including students' perceptions as learners. 
"We will be conducting a longitudinal study comparing student results at the Fullerton school sites with students from similar sites in another district who are not receiving the Project CREATE model," said Dawn Person, professor of educational leadership and director of the Center for Research on Educational Access and Leadership. 
An additional project goal is to develop an assessment instrument used to measure student performance on the national arts standards. 
"Through our study, which will be conducted by the center's undergraduate and master's student assistants, we hope to demonstrate the efficacy and worth of this program over time so it will be used as a national model to strengthen arts education in schools," Person said.
Nov. 16, 2010