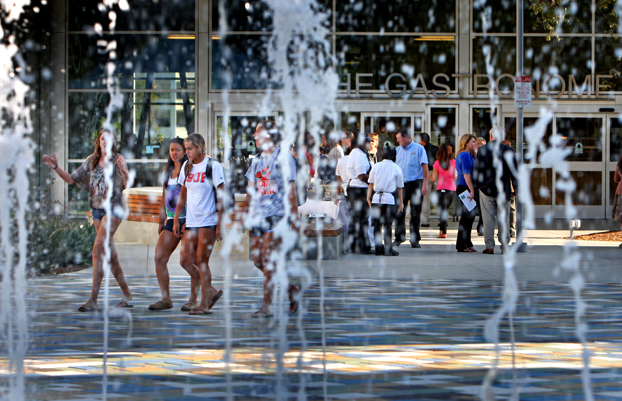 Caption: The Gastronome features a variety of foods, including vegan and international fare. Photo by Karen TapiaDownload Photo
University Initiative: Titan Pride
Introducing The Gastronome
New Campus Dining Facility Offers Fare for All
STUDENT MARIVEL SORIA looks forward to living on campus this fall in the university's residence halls — and also making her own waffles inside the new Gastronome dining facility.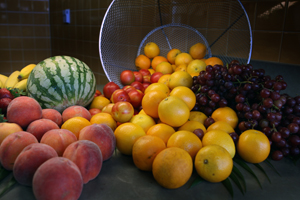 Caption: Fresh fruit was on the menu during the grand opening of the Gastronome.  Photo by Karen Tapia HereDownload Photo
"There's a big range of food options so you can be creative with your food," said Soria, who likes to top her waffles with strawberries.
Students living on or off campus, along with faculty and staff members, now have an eating venue like no other on campus.
"The facility is truly unique and provides a variety of eating options for our students," said Fred Lipscomb, director of housing and residence life.
The 565-seat contemporary dining facility, which officially opened Aug. 17, offers a smorgasbord of food and dessert items available for breakfast, lunch and dinner, including vegan, vegetarian and international fare.
The buffet-style eatery has a diverse menu with prepaid meal plans offered to student residents and the campus faculty and staff community, as well as at-the-door rates. For more information, visit: www.csufdining.com.
From the prepared-to-order omelet, waffle, taco salad and burrito stations to the pizza fresh-baked inside the stone hearth oven and salad and deli bars, customers at the Gastronome can get their fill.
"It's like a cruise ship mentality," Lipscomb said. "We offer non-stop eating."
The Gastronome also features late-night dining until 1 a.m. with a limited menu of items such as pizza, sandwiches and beverages.
Lipscomb added that the dining commons will help to foster the "living and learning" concept for the 1,900 students now taking up residence at Cal State Fullerton, as well as help to bring the entire campus community together.
"The Gastronome will serve as a hub to build a sense of community," he said.
Moreover, the new facility has created 80 new jobs on campus, Lipscomb said.
Student Kristen Hagood, president of the Resident Student Association, who lives in the residence halls, walks across the housing complex to her new job at the Gastronome.
"This is my first job and I'm excited for the opportunity. It's convenient too," said Hagood, a junior and full-time business student who plans to work 12-16 hours a week.
Hagood also praised the meal choices and quality of the food: "It's like getting the same good food you get at home."
Soria, a senior majoring in sociology and Chicana and Chicano studies, said she likes the healthy food choices.
"Having those options really benefit the students," she said. "Most of all, the Gastronome really caters to the students who don't commute — and the place makes you feel like home."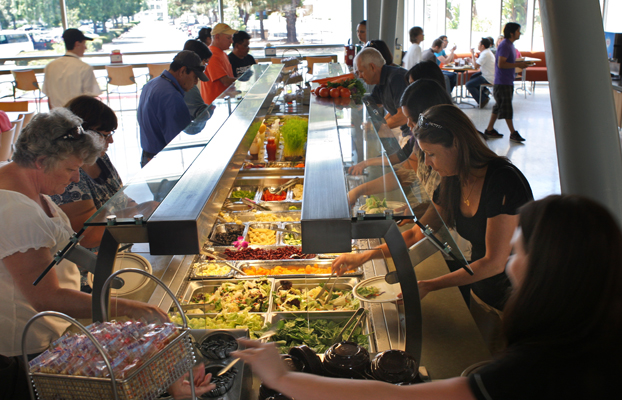 Caption: A fresh salad bar is part of the Gastronome. Photo by Karen TapiaDownload Photo
August 18, 2011