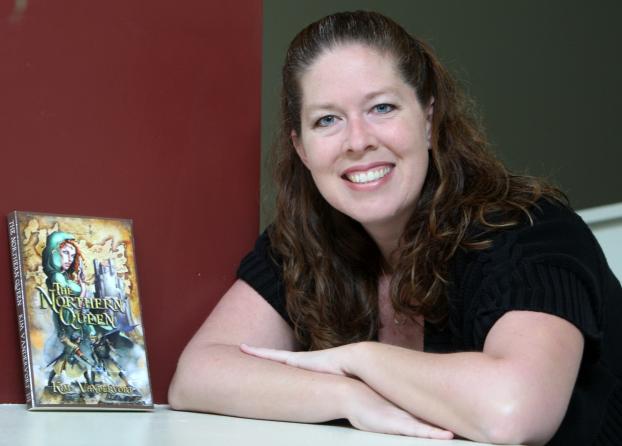 Caption: Kim Vandervort and her latest book, "The Northern Queen." Photo by Karen Tapia
A Step Back in Time
Kim Vandervort Writes Books About Medieval Fantasy
KIM VANDERVORT wrote her first novel at the age of 11 as an outlet for her overactive imagination.
That first effort, and the revisions and rewrites through the years, became "The Song and the Sorceress," published in 2009 by Hadley Rille Books as the first in a four-book series.
This year, Cal State Fullerton honored the university alumna and English lecturer for her second entry into the series, "The Northern Queen," published last November.
"I was always a reader and I preferred fantasy books," she said, during a break from meeting with students from her Advanced College Writing course recently.
She said she also loved writing, collecting her thoughts and creative endeavors in journals, then sharing with a writing group. She still is a member of a group that includes two fellow lecturers and two retired educators from the English and Comparative Literature Department.
"When I came to college, where I eventually settled on a major in English, I remember taking a course where they discussed King Arthur and I thought, wow, they're bringing together a theme I love and history," Vandervort said. "I decided to get a master's degree in medieval literature, which helped form my stories and make them richer."
These days, she is busy trying to finish a novel called "Chrono Mechanics," based on a comic book series of the same name by Art Thibert. It's expected to be published in the summer.
"I usually write about  a thousand words a day but right now, with a deadline of the end of the month, I'm writing a lot more," she said.
The third book in her series will be her next endeavor and should be out in early 2012.
Vandervort said she loves her life.
"I love being published by a small press where the editor loves my writing," she explained. "And, teaching here is a great job that allows me the ability to share my love of writing with others, to write my books and to raise my daughters."
March 23, 2011