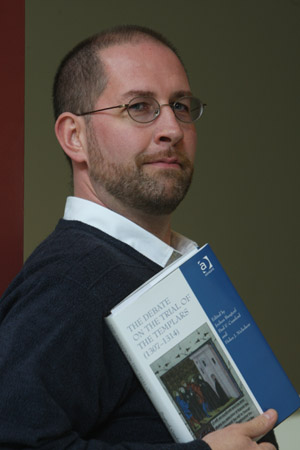 Caption: Jochen Burgtorf holds "The Debate on the Trial of the Templars (1307-1314)." Photo by Karen Tapia
Dissolving the Templars
History Professor Investigates 700-Year-old Controversial Trial
IN 1307, under orders from King Philip IV, members of the military-religious Order of the Temple — the Templars — in France, were arrested and tortured, accused of heresy, homosexual practices and idol worship among other things.
The Templars, created in 1120 shortly after the First Crusade in the Holy Land, had spent nearly two centuries guarding pilgrims and defending the crusader states in the East, said Jochen Burgtorf, professor of history.
"Then, all of a sudden, they found themselves incarcerated, deprived of their possessions and subjected to torture," he said. "Pope Clement V extended the scope of the trial over all of Christendom, and in 1312, at the Council of Vienne, dissolved the Order, not so much because its guilt had been proven, but because its reputation, in the course of the trial, had been tainted beyond repair."
The Templars' trial is the subject of the book, "The Debate on the Trial of the Templars (1307-1314)," a collection of 28 essays written by him and fellow scholars from around the world on what has been called one of the greatest cases of judicial murder in history.
Burgtorf is one of the authors and editors of the book, published last year by Ashgate.
He said the Templars' trial still arouses controversy and speculation today, and the book establishes the current state of scholarship on the topic and identifies areas for new research.
In his essay, Burgtorf explores the crime scene investigation.
"Hoping to find evidence against the Templars, the king of France had asked his officials to compile meticulous records of the Orders' possessions, down to the quantity and quality of their wine cellars," Burgtorf noted. "Most of the records remain unedited in various French archives, and they are a treasure trove for the study of medieval material culture. The reason why they have remained unexplored, in my opinion, is because there is nothing in them that could have served to establish the Templars' guilt. In other words: the prosecution had no use for it."
Burgtorf's interest in the Templars goes back to the late 1980s, when, as an undergraduate in Germany, he heard his first lecture on the crusades.
"On some level, the Templars, like all Orders of the Church, were a secret society, and people have always been intrigued by secret societies," he said. "I love historical myths and the discourse pertaining to these myths.
In 1314, two years after the dissolution of the Order, Burgtorf said, its Grand Master, Jacques de Molay, was burned at the stake as a relapsed heretic.
"According to an eyewitness, Molay — before he went up in flames — allegedly said: 'evil things will befall those who have condemned us to death. God will avenge our death.' Four weeks later, the pope died of a painful illness. Six months after that, the king of France suffered a stroke and died. But, at least to some, Jacques de Molay's curse had only just begun to reveal itself," he said.
"In 1793, King Louis XVI of France, a remote relative of Philip IV, was executed by the guillotine of the French Revolution, after spending the last months of his life incarcerated in the Temple of Paris, the former headquarters of Molay's Order," Burgtorf added. "Writers have had field days with this. Did the surviving Templars found a new secret society? Scholars, including myself, will say no. But, that will not stop anyone from spinning new tales and, thus, from adding to the 'mythopoetic discourse.' "
March 23, 2011