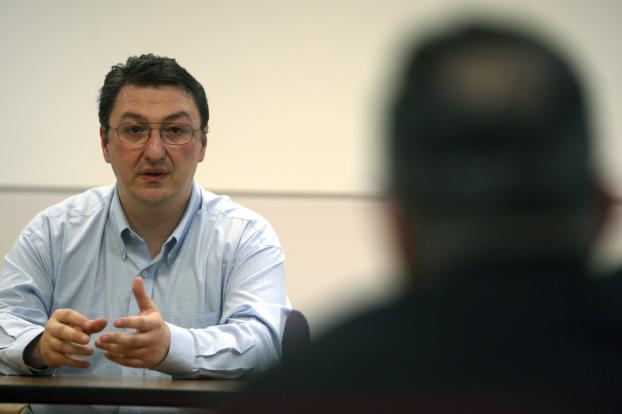 Caption: Bogdan Suceavă at a recent lecture on Eastern European history, politics and culture. Photos by Karen Tapia
Romanian Satire
Professor's Novel Addresses Post-Communist Life
AS BOGDAN SUCEAVĂ recalls, the fall of communism in his native Romania more than 20 years ago and the cultural chaos that followed is a story that had to be told.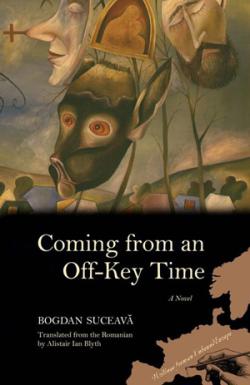 So, he tells it in his latest book, "Coming from an Off-Key Time" (2011 Northwestern University Press).
As a college math student in Bucharest, Suceavă witnessed the 1989 Romanian revolution. This so-called "transition" period and its impact on the country's culture fascinated him, motivating him to write the novel.
"Writing the book is neither a matter of pride nor scholarly prestige, it is a matter of telling it like it is, of telling the truth and filling a void," explained Suceavă, associate professor of mathematics. "I had this feeling that there was this gap, that something was missing. I felt it was my duty to write a lucid book about the culture I was born into, and to try to cover the logic of a world that seems to be attracted more by its own illusions than reality. I felt it's my duty to do what nobody else seems to be doing."
The novel, which took Suceavă five years to complete, was first published in Romanian in 2004 under the title, "Venea din timpul diez," and this year, the English version was released (translated by Alistair Ian Blyth). The novel also has been translated into Hungarian and Bulgarian versions.
Suceavă, associate professor of mathematics who teaches lower and upper division math courses, as well as courses to prepare future math teachers, has been called one of Romanian literature's most promising original writers.
He has received accolades and awards for his literary works, including the 2007 Fiction Award of the Association of Bucharest Writers for his novel, "Miruna, A Tale." One critic described this work as a "literary jewel, one that puts readers under a strange and unique spell."
Suceavă has written five novels, two collections of short stories and several collections of poetry. His short fiction has appeared in Review of Contemporary Fiction, Absinthe, and other North American journals.
What is "Coming from an Off-Key Time" about?
It's a comedy about the historical period in Eastern Europe called "the transition." This word does not mean anything related to a given historical period in North American English, but in Eastern Europe, it means the institutional transformation of the whole country after the fall of the communist regime. For example, readjusting the constitution from allowing one single political party toward allowing free elections. Or, allowing their citizens to carry the passport with them. Before 1989, the right to have a passport was a political tool to keep the citizens under control. "Coming from an Off-Key Time" is not a memoir and is not a description of the historical facts, but a comedy on the political extremism that surfaced in Romania after 1990.
How is this historical period depicted in your book?
One may think that once the communist regime has disappeared, nothing stops Romanians to be free and all will evolve smoothly. However, we have been surprised to discover that there is one more detail: the tradition of the local culture, which is not really known in the United States. It's not at all the local culture of the peasants tangentially depicted by Bram Stoker, but a culture very much attracted by the idea of the nation-state, a place where the Orthodox Church plays an irrationally strong role, a place where secret services play an important part in the society and where people tend to behave quite irrationally. Thus, most of the novel's action takes place in Bucharest in 1993 in a moment of general religious enthusiasm. The conflicts between various religious sects erupt not only in personal clashes, but also in street fighting broadcast live on television. Each of the characters encountered in this novel has a theory, a fanatically held belief. In Central Europe there is a strong tradition of comedy or satire inspired from political ideas and addressing more general concerns. One of the most interesting works in this tradition is Karel Čapek's dystopian satire "War with the Newts," written in Czech and published in 1936, which predicted with impressive power the tragic events of WWII.
What do you hope readers get from reading your book?
A better understanding of moments of chaos; for example, the recent moment in Egypt when there is no constitution and where the people may be tempted to adhere to values that are coming from the strong core of their cultural heritage, even if these ideas harbor the potential of politically extremist movements. I wish the large audience in the U.S. would be interested more and see how people from all over the world think when they have to go through moments of chaos. I think this is a key point of understanding world history and our contemporary world.
Does the book tie into your teaching and research?
It actually does. I wrote a few papers on foundations of geometry, where we look at various spaces from a logical standpoint. My question was: What is the logic of the world I grew up in? It's about the same way I am looking at a geometric space and I ask what are its laws, its fundamental rules? Since I teach future K-12 teachers, they need to see this way of approaching geometry. They need critical thinking, as it arises from the study of geometry.
March 23, 2011