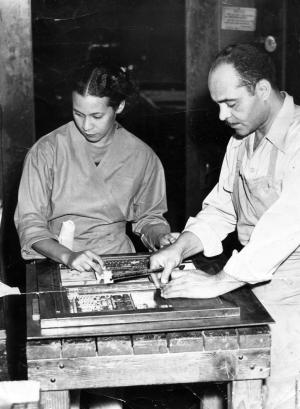 Caption: Almena Davis Lomax, left, with her husband, Lucius W. Lomax, Jr. in the Los Angeles Tribune print shop in the early 1950s. Photo courtesy Center for Oral and Public History
Record Keeping
Local African American Oral Histories Available at Center for Oral and Public History
ALMENA DAVIS LOMAX, the African American journalist who served as co-publisher, editor and writer of the Los Angeles Tribune during the 1940s and '50s, was a civil rights activist who wrote about her own experiences as well as those of leaders such as Martin Luther King Jr.
In a 1961 The Nation article, she wrote about her move from Los Angeles to Tuskegee, Ala., where she lived with her her six children.
"In common with Negroes all over the country and people throughout the world who admire courage, I had been stirred by the Montgomery bus boycott as by no single event in Negro history," Lomax wrote. "That was the year Autherine Lucy was stoned at the University of Alabama. That was the time of Emmett Till, of Gus Courts, of Lamar Smith, of Dr. G. W. Lee, lynch and near-lynch victims in Mississippi.
"But none of these events stirred me like the story of thousands of Negroes 'walking in dignity' where they had ridden so long under abuse. It was as though a signal had been given and we had begun to rise."
That article and Lomax's other writings, including published and unpublished works, dating from 1940 to 2007, are in a four-box collection at Emory University. A lengthy oral history of Lomax can be found at Cal State Fullerton's Center for Oral and Public History. Conducted in 1966 by COPH, Lomax talks about racism, Southern society and the Zoot Suit riots, among other related issues. The following is an excerpt:
"It's very recent that the Los Angeles Times has hired any Negroes. They have used two pieces by me just this winter, like October, end of October, once in November, an opinion. But, I asked for a job as a columnist, and they didn't even reply to the letter. Like, the New York Times last year. I tried to work there and they said I had too much experience and too much talent. Such a beautiful way of turning you down, to be hired as an ordinary reporter. And, I don't fit into any of their special categories. Like, for instance, a Negro cannot be hired for an expertise in Negro life because the assumption is that you're too involved emotionally. You ask them, 'How does this figure with a white man? Do you give him a litmus test to see whether he is involved emotionally?' This is one of your last barriers racially, I think, when you run into skilled or professional white persons, hostility and disinclination to believe that this Negro has the same skills he has.
"I remember when I called Montgomery when they were waiting for the Supreme Court decision on, you know, segregation on the buses in the city, you know. And, I called the Montgomery Advertiser and they thought I was white… This Grover Hall, or somebody down there, I think it was. He was telling me that blood was going to run in the streets, you know, if the decision was in favor of the Negroes. And, the city manager had said blood would run and blah, blah. I called all over Montgomery, and all the Negroes had gone underground . . . So, I ran the story the way he gave it to me, and he wrote me a letter demanding a retraction because he had said all these things which were controversial. And so, I ran his letter across the top of the page, and told him to sue me, be damned.
"I think the role of the metropolitan newspaper in the past has been to contribute to the stereotype. They have not told, pictured the Negro as he was. They did not picture the white man as he was, or as he is. They have never correctly — and, don't today — interpret the significance of race relations or the racial things that happen, or the Negro's particular importance or status or significance in our society, or the importance of the Negro question . . . I think that America runs away from confrontation of the Negro problem . . .
"White people, in spite of all — no matter how prejudice they feel, they are compelled toward an interest in seeing what goes on. This is human nature, you know. It's not just Negroes buying these newspapers with these headlines or looking on TV, you know. And so then, the daily papers, to meet the challenge, had to begin to cover it. So, the Negro broke into the news . . ."
Lomax's oral history and scores of oral histories of local African Americans, recorded by historians for the university's Center for Oral and Public History, are available for public review at Pollak Library. A complete listing of the oral histories is available online. They include business executives, authors, civil rights leaders, professors, psychologists and members of the military, like John F. Smith.
There are two oral histories of Smith, a World War II veteran who broke racial barriers when he became Orange County's first African American police officer. An excerpt from one of the oral histories, conducted in 2009, can be viewed on YouTube.
COPH is open from 9 a.m. to 4:30 p.m. Monday through Friday. It is located in Room 363 of Pollak Library. For more information about its archives, call 657-278-3580.
— Stephanie George, Center for Oral and Public History archivist, contributed to this report.
February 2, 2011