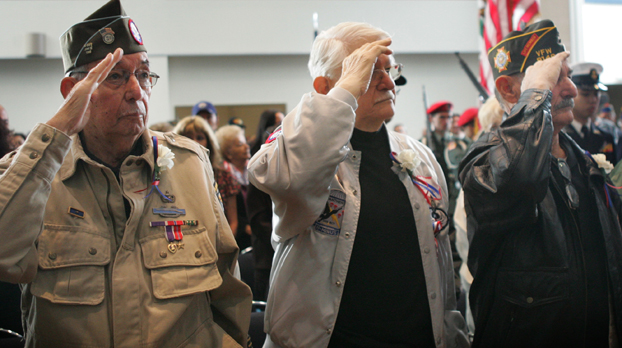 Caption: Veterans, from left: Ed Griffin, Jess Samaniego and Albert Robles. Photo by Karen TapiaDownload Photo
Supporting Service Members
University Supports, Celebrates Veterans in Myriad Ways
AS THE NATION salutes veterans this week, Cal State Fullerton continues to build on and strengthen its veteran support services, programs and tributes on campus and in the community.
For instance, the university and Latino Advocates for Education host the annual Veterans Day celebration on campus each year.
"This is the 15th annual Veterans Day Celebration we have co-hosted on our campus, paying tribute to veterans of all of our wars, conflicts and peace-time service," CSUF President Milton A. Gordon said at the Nov. 5 event.
"Today, marking World War II's 70th anniversary, we are especially honoring World War II veterans, including two Hall of Fame athletes — Manuel Ortiz and Ted Williams, a nurse-philanthropist — Maria Dolores Hernandez, a civil rights leader — César E. Chávez, a dancer-choreographer — José Limón, an actor — Desi Arnaz, a war hero — Guy Gabaldon, and their families."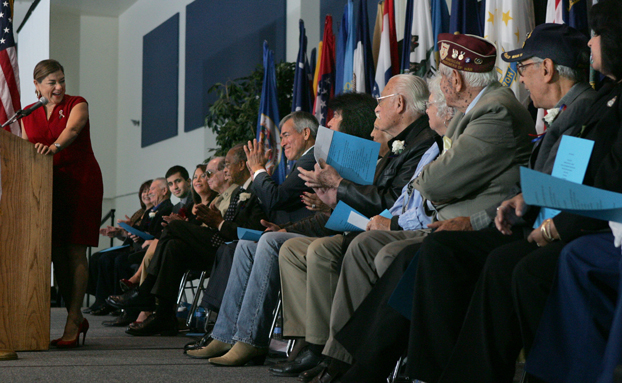 Caption: Congresswoman Loretta Sanchez thanks veterans for their service. Photo by Karen TapiaDownload Photo
As part of the celebration, family members or friends of Ortiz, Williams, Hernandez, Chávez, Limón, Arnaz and Gabaldon were presented with plaques from Rep. Loretta Sanchez (D-Garden Grove) featuring her words in the Congressional record, reading in part:
"During World War II, 500,000 Americans of Hispanic ancestry fought with integrity and bravery, earning 126 Distinguished Service Crosses, over 1,400 Silver Stars, and 2,807 Bronze Stars for valor. ... Through the war, over 12,000 Latinos were awarded the Purple Heart for wounds suffered in combat, 2,561 Latinos were prisoners of war and 9,831 Latinos were killed in action. Because of their record of service, I introduced House Resolution 404, which recognizes the service and the sacrifice of the members of the Armed Forces and veterans who are Latino. ... I wish to remember these war heroes and the stalwart and selfless service of Latinos in military history 70 years after World War II."
Gordon added: "The veterans we honor today unselfishly placed their lives on the line for our freedom. Freedom is the most prized item on earth. Since the founding of our nation, the United States of America has never lacked for individuals who are willing to come forth with their honor, their devotion, and, when necessary, their lives. These are the veterans we honor today. These are the men and women who left their homes, their families in many cases, their safety, their comfort, to place themselves on the front lines and on the battlefields in order that freedom, a concept bigger than any individual, would continue to thrive and flourish."
In addition, Orange County Superior Court Judge Frederick P. Aguirre debuted a documentary he produced, telling the stories of the seven featured veterans and other Latino veterans. And, a swing band performed for the more than 300 event attendants.
On-Campus Services
Besides the annual celebration, Cal State Fullerton, which has been named a "military-friendly" school by G.I. Jobs Military Friendly Schools, hosts a number of other events that pay tribute to veterans, active-duty members of the military and future service members.
Some of the programs Cal State Fullerton takes part in include Troops to College, Army ROTC, military science program and Veterans Student Services. Also, the university's prestigious President's Scholars Program this year accepted its first veterans.
Program Expansion
A $318,000 grant to help expand services for student veterans was awarded to CSUF — the only public university in the state — by the U.S. Department of Education.
November 9, 2011