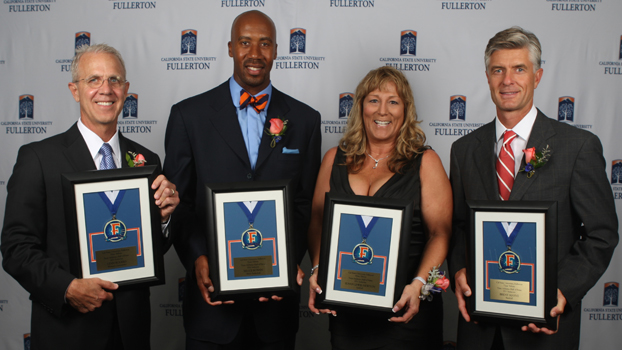 Caption: From left: Lynn Rogers, Bruce Bowen, Susan Lewis-Newton and Brent Mayne. Photo by Karen TapiaDownload Photo
Titan Tribute
Athletics Hall of Fame Inducts Six
More than 250 members and friends of the Cal State Fullerton athletics family feted this year's Titan Athletics Hall of Famers on Oct. 1.
Honorees in the Class of 2011 included three former players — Bruce Bowen (basketball), Brent Mayne (baseball) and Susan Lewis-Newton (softball), one coach — Lynn Rogers (gymnastics), and two philanthropists — Jerry and Merilyn Goodwin

Caption: From left: Lynn Rogers, Bruce Bowen, Susan Lewis-Newton and Brent Mayne. Photos courtesy Titan Athletics
Bowen was a four-year letterman for the Titans in 1989-93, a two-time all-conference pick who went on to win three NBA Championship rings with the San Antonio Spurs. He is now an ESPN commentator. Former Titan player and coach Donny Daniels made the presentation along with President Milton A. Gordon and Athletic Director Brian Quinn.
Mayne was a two-year catcher for the Titans in 1988 and 1989, earning All-American honors. He batted .393 in 1988 and had a school record 38-game hitting streak. He was a first-round draft choice by Kansas City and went on to a 15-year (1990-2004) major league career with seven different clubs, compiling a lifetime .263 batting average. Head baseball coach Rick Vanderhook presented Mayne.
Lewis-Newton was a four-year star in 1981-84, earning All-American honors three times. In an era of little offense, she batted .354 for her career with 25 home runs. During her tenure, the Titans won four conference championships, three regional titles and placed second twice and third once nationally. Former teammate and current Chapman University softball coach Janet Lloyd presented Lewis-Newton.
Rogers launched the Titans' gymnastics program in 1976 and won his first 71 meets. His coaching helped make Cal State Fullerton a dominant power for two decades, winning the national championship in 1979 and placing second or third eight times in his 24 years. The Titans won 10 conference championships and nine regional crowns. Rogers left coaching to develop a successful wholesale food business called "Coach's Oats." He was introduced by his former gymnast, assistant and successor, Julie Bowse, who is CSUF's senior woman administrator.
The Goodwins, who were unable to attend the gala, were local business owners who had no connection to Cal State Fullerton until they started providing football coaches courtesy cars in 1980. They would become loyal fans and major contributors to various areas of the university. Their primary gift enabled the baseball stadium to be expanded in 2000 and the Titans, who had never hosted an NCAA Regional event, have since hosted 10 regionals and eight super regionals.
Prior to the induction ceremony, attendees recognized the 40th anniversary of a private airplane crash that killed assistant football coaches Bill Hannah, Dallas Moon and Joe O'Hara on a scouting mission to San Luis Obispo.
Oct. 10, 2011