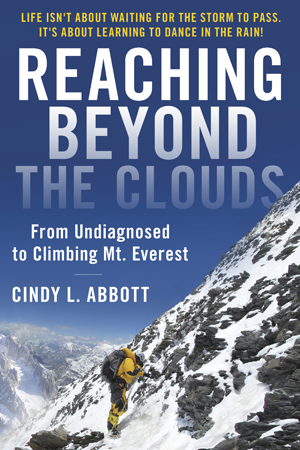 Caption: A portion of the proceeds from book sales benefit the Vasculitis Foundation to fund research for rare disease cures.Photo
Telling Her Story
Climbing Mt. Everest and Beyond
DESPITE dealing with a rare disease and near blindness, Cindy L. Abbott, summited the world's highest peak last year and lives to tell about it.
Released in August, the Cal State Fullerton alumna and health science lecturer's account, "Reaching Beyond the Clouds: From Undiagnosed to Climbing Mt. Everest," details every inch of her extreme climb while suffering from Wegener's Granulomatosis, a rare disorder that causes inflammation of blood vessels, restricts blood flow to various organs and can be fatal. Her journey to the top of the world was her way of raising awareness about rare diseases.
Her quest continues as she now plans to mush with a dog team from the "Come Back Kennel" in the 2013 Alaskan Iditarod Dog Sled Race, a 12-day, 1,150-mile tour from Anchorage to Nome. She is training with Lance Mackey, a cancer survivor and four-time Iditarod winner.
Abbott said she hopes to show others that "life is precious and dreams can come true. I will always keep reaching, no matter the obstacle!"
Sept. 22, 2011