CSUF Electrical Engineering
Professor Named NASA Fellow
June 7, 2004 :: No. 277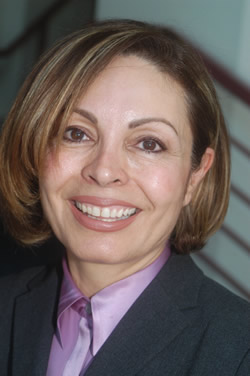 Shahin Ghazanshahi, CSUF Electrical Engineering
Professor Named NASA Fellow



Download Image
Shahin Ghazanshahi, a professor of electrical engineering at California State University, Fullerton whose research interests include modeling, simulation and analysis of biomedical systems, has been named a fellow in the 2004 National Aeronautics and Space Administration (NASA) Administrator's Fellowship Program.
She is among just six faculty members in the nation chosen for this year's program and is the first selected from a California university since NASA launched the program in 1997.

Under the terms of the fellowship, she will conduct research at the Goddard Space Flight Center in Greenbelt, Md., for 12 months, starting in late August. She will return to Cal State Fullerton in the fall of 2005 to teach and continue her research for another nine months, under the fellowship program.

"This is a great honor for both Dr. Ghazanshahi and Cal State Fullerton," said Raman Unnikrishnan, dean of the College of Engineering and Computer Science. "The competition for the award was fierce, and the recognition is indicative of Fullerton's increasing competitive and national prominence."
The NASA Administrator's Fellowship Program is designed to enhance the professional development of faculty members in mathematics, science, engineering and technology at colleges and universities designated as minority-serving institutions. The program also has a separate category of fellows for current NASA employees.

The faculty program seeks to increase the ability of minority-serving institutions, such as Cal State Fullerton, to respond to NASA's overall research and development mission.

Ghazanshahi, who holds a doctorate in biomedical engineering from USC and joined the Fullerton faculty in 1985, says that students will benefit from NASA's cutting-edge research when she returns to campus. "I also hope my experience will help me and other faculty members to pursue NASA grant opportunities in the future," she says.

The Goddard Space Flight Center, where she will conduct research, is responsible for remotely controlled earth orbiting and sounding rocket missions, including instrumentation design and development, spacecraft engineering, satellite tracking, communications, data acquisition and data interpretation. The center has made major advances in communication, weather and climate research, earth resources, space physics and astronomy, according to NASA.

Ghazanshahi has published many articles in refereed journals and has received several external grants from Lockheed Martin, DOE, Hughes and the CSU to support her research. She has received several awards and recognitions for her outstanding teaching and scholarly activities and was the recipient of a Carnegie Academy Award for the Scholarship of Teaching and Learning in 2001.

Linda Patton, director of the Office of Grants and Contracts, assisted Ghazanshahi in pursuing the fellowship.

Media Contacts: Shahin Ghazanshahi, professor of electrical engineering, at 657-278-3664 or sghazanshahi@fullerton.edu

Linda Patton, director of grants and contracts, at 657-278-2106 or lpatton@fullerton.edu
Dave Reid, Public Affairs, at 657-278-4855 or dreid@fullerton.edu