Cal State Fullerton to Celebrate Dedication of
Kinesiology and Health Science Building
April 21, 2004 :: No. 222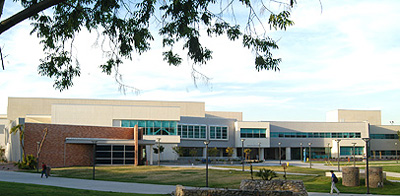 Kinesiology and Health Science Building
Reducing childhood obesity and promoting wellness in later years are the topics of two community forums Cal State Fullerton will host April 30 as part of dedication festivities for the university's Kinesiology and Health Science Building.
California State Superintendent of Public Instruction Jack O'Connell, an advocate of promoting health and fitness in schools, will deliver the keynote address as part of the 10:30 a.m. dedication ceremony.
"We have a daylong series of events designed to focus not only on the building dedication but on good health practices," said Roberta Rikli, dean of the College of Human Development and Community Service. "The community, of course, is invited to help us celebrate this achievement and receive valuable insight from our panels of healthcare experts."
Festivities are scheduled from 8 a.m. - 2:45 p.m., beginning in the Kinesiology and Health Science Building with a forum on childhood obesity. The building dedication will be followed by tours, a reception and health fair. A 1:15 p.m. forum on wellness in older adults, at the Ruby Gerontology Center, will conclude the day's celebration.
A 71,000-square-foot expansion of the facility, formerly known as the Physical Education Building, features new facilities for the Wellness Center and Center for Successful Aging, a two-court multipurpose gymnasium, numerous labs and a 125-seat lecture hall, as well as 42 faculty offices.
"The new building addition provides students with new and enhanced labs and classrooms, as well as modern, state-of-the-art equipment for their career preparation in rehabilitative services, fitness, health promotion sports and education," said Rikli.
The building addition also provides new practice facilities for Cal State Fullerton basketball teams and additional seating space in the Titan Gym.
"Addressing the Obesity Epidemic in Children: Schools and Communities Working Together" is the subject of the 8:15-10:15 a.m. panel discussion featuring physicians, academics and community leaders.
Presenters include: Mark Horton, deputy director of the Orange County Health Care Agency; William M. Habermehl, superintendent of schools for Orange County; Susan Clark, director of endocrinology at Children's Hospital of Orange County; America Bracho, president of Latino Health Access; Michael Ruane, executive director of the Children and Families Commission; and Rikli. Kathy Koser, division chair of kinesiology and health science, will moderate the panel in the KHS building's lecture hall, Room 199.
The 10:30 a.m. dedication ceremony will be held on the KHS patio, where Cal State Fullerton President Milton A. Gordon will welcome guests. The keynote address by O'Connell, a Cal State Fullerton graduate, will highlight the importance of education and programs, such as those offered at Cal State Fullerton, in promoting health and combating health-related problems, including the rising rates of obesity in children.
As a community partner with Cal State Fullerton, Bill Wood, vice president of community relations for PacifiCare Health Systems and president of PacifiCare Foundation, also will make remarks.
From 11:30 a.m. to 12:45 p.m., a reception, tours of the new building and a health fair will be offered.
"Promoting Wellness in Later Years: A 10th Anniversary Celebration of Campus/Community Partnerships—Honoring the Past, Looking to the Future," is the focus of the 1:15-2:45 p.m. forum in the Ruby Gerontology Center.
Special guests include Mary Ellen Courtright, vice president of Archstone Foundation; Mary Paul, interim executive director of the Orange County Office on Aging; and Wood.
Panel presenters are C. Jessie Jones and Debra Rose, co-directors of the university's Center for Successful Aging, and professors of kinesiology and health science, and Rikli, who, as dean of the college, led the planning effort for the building's new wing.
Seating is limited for the two forums. For reservations to any of the day's festivities, call 657-278-3316 or register online at http://hdcs.fullerton.edu/knes/khp.htm.
Media Contacts:
Kathy Koser, chair and associate professor of kinesiology and health science, at 657-278-3320 or kkoser@fullerton.edu
Valerie Orleans, Public Affairs at 657-278-4540 or
vorleans@fullerton.edu