International Trade Program
Expands Its Goals
February 9, 2004 :: No. 145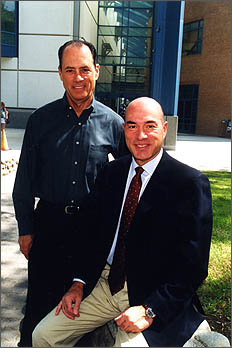 INTERTECH project developers Joe Greco and Gustavo Vargas



Download image
An international trade program being developed to provide the region's biomedical, pharmaceutical, environmental, information and telecommunication technology firms with the expertise to successfully expand internationally is entering its second year with additional funding and enhanced goals.
The centerpiece of the International High-Technology Business Partnership Project (INTERTECH) is a database that will provide businesses with information on cultural and business practices, as well as background information on Mexican, South American and Asian governmental policies directed to the high-tech sector.
Project director Gustavo A. Vargas, professor of management and associate director of the Center for International Business, and Joe Greco, director of the Center for the Study of Emerging Markets, were awarded $85,000 from the U.S. Department of Education in second-year funding for INTERTECH. The two business faculty members established the program to help area businesses make the right connections for sustained business success.
"These countries urgently need to expand their access to high-tech products and services to break away from their geographical and structural limitations to economic development and employment growth," said Vargas. "In turn, the many high-tech companies concentrated in Orange County urgently need to expand their international trade."
During the first year, INTERTECH began a number of projects, including research reports on each area of focus and surveys to learn more about high-technology business practices in various countries. Those reports are now being finalized. "The papers include regulations, major markets and the environment for business," noted Vargas. "Each will be placed on INTERTECH's Web site so interested businesses can review and become familiar with this resource.
As part of INTERTECH, research is being conducted to explore the international markets' educational needs in science, engineering and business management. "These will help our students prepare to meet the needs of developing countries, as well as those here in the United States," he noted.
The work is being done by a cadre of faculty members from the United States, Mexico, South America and Asia. It's a multidisciplinary collaboration with 17 faculty members, noted Vargas.
"Our goals for this year are to complete all the ongoing work by this fall and be able to distribute it to regional high-tech firms," said Vargas. "We also plan to hold a conference/workshop to present our findings."
Supporters of the upcoming conference and effort include the Orange County Business Council, the American Electrical Association and the Orange County Engineering Council.
"Our focus of the first two years have been on high-tech suppliers … research and development and marketing. In the future, INTERTECH II will focus on consumers/demand side for manufacturing, transportation, hospitality and banks," said Vargas.
"The information that we are developing and will share with industry will help boost the competitiveness of our companies and increase their ability to operate in the global marketplace," he added. "By sharing the information with our students and fellow faculty members, our graduates will be more prepared than ever to become tomorrow's business leaders. Equally, by helping the high-tech industry, we help those countries grow and develop."
Media Contacts:
Gustavo Vargas, professor of management, at 657-278-3936 or gvargas@fullerton.edu
Joseph Greco, director of the Center for the Study of Emerging Markets, at 657-278-2375 or jgreco@fullerton.edu
Pamela McLaren of Public Affairs at 657-278-4852 or pmclaren@fullerton.edu