Gordon Reports Growth and Proress In Annual Convocation Address
by Pamela McLaren
From Dateline (September 25, 2003)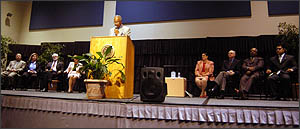 CSUF President Gordon addressed the campus community at the annual Convocation on September 9.
"As we begin the 2003-04 academic year, we have much to be excited about," announced President Milton A. Gordon in his annual commencement address Sept. 9. "Significant growth and progress are clear in our many programs and areas of our university."
While acknowledging that cuts to the state's education budget have created a challenge, Gordon noted with pride that the campus has enrolled more than 30,000 students this fall, including more than 3,200 first-time freshmen and approxi- mately 3,100 students at the El Toro Campus.
The El Toro campus, he reported, "has been a big success....One of our continued highest priorities for the coming year is for us to continue working with the Navy, the city of Irvine, the CSU Board of Trustees, Chancellor Reed and the community to secure the 275 acres for a permanent presence for Cal State Fullerton at El Toro."
About other progress, Gordon pointed to the recently completed Kinesiology and Health Science Building, as well as groundbreaking for the Performing Arts Center and the first of two parking structures. In the planning stages, he added, is a donor-funded visitors' center at the Fullerton Arboretum, a new building for the College of Business and Economics, a student recreation center and a larger Children's Center.
"In addition to securing the land that we need at El Toro and expanding our own facilities here on the main campus, we must also meet enrollment demand by recruiting and retaining the best faculty and staff," Gordon stressed, adding that a committee has been created to work with and provide support for probationary faculty as they learn about tenure requirements. He noted the efforts by the Faculty Develop- ment Center and Human Resources to provide development and support programs for faculty and staff members, as well as continued efforts to bring about additional affordable housing, like University Gables in neighboring Buena Park.
The effects of the state budget will be felt in fall 2004 enrollment, the president said, but "it is my intention, and I am sure that you concur, that Cal State Fullerton must continue to offer high-quality, accessible and student-focused higher education to the communities we serve.
"The key to our success this year and in the future will continue to be good planning, excellent communications and most importantly, working collegially to serve the best interests of our students," said Gordon. "These are not easy times, but they are rewarding and challenging times, which call on all of us to give forth our best efforts.
"Let us make this year, by working together, a great year for Cal State Fullerton and all of our students."