New Electric Vehicles Run Silently and Efficiently
by Pamela Mclaren
from Dateline ( January 30, 2003)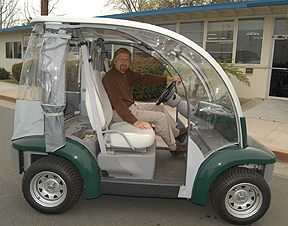 Willem van der Pol, director of physical plant, shows off one of the 11 new electric vehicles now operating on campus, thanks to the Ford Th!nk Neighbor Placement Program. The vehicles are used by several departments on campus, including Parking and Transportation, Public Safety and Instructional Technology.

Download image
---
They run quietly and efficiently along the roadways and passages of the campus carrying staff members on rounds, to appointments and to escort evening students from class to their vehicles.
With four wheels, upholstered seats, covers that keep out wind or rain, and enough power to be run on city streets if need be, "they" are 11 new electric vehicles provided to Cal State Fullerton by the Ford Th!nk Neighbor Placement Program.
University administrators heard of the program and applied last summer. Shortly afterwards, they received word that they had been granted the 11 carts. Cal State Fullerton is one of eight CSU campuses to take part in the program.
"We use them where we don't want to take trucks," says Willem van der Pol, director of physical plant, which operates five of the two- and four-seat vehicles. "Physical Plant uses them principally to move people around campus, like the custodial manager who needs to go from building to building to complete her tasks."
For classroom technology support, technicians use a four-seater to move equipment to and from classrooms.
"It's a whole lot faster to use this vehicle, especially when we are responding to a repair call at the Engineering and Computer Science buildings from our offices in McCarthy Hall," reports Pat Ames, director of academic facilities and classroom technology. "It's also street legal, so we can use the vehicle to get to and from College Park.
"One of the nice things is the cover, which keeps the seats clean and protects the drivers in rainy weather," Ames adds.
Parking and Transportation uses one and shares another with Environmental Health and Instructional Safety, while Public Safety operates two – one on the main campus and one at El Toro.
---
"We use them where we don't want to take trucks."
---
"These are excellent vehicles for use in a number of different assignments, all related to administrative activities such as student escort, community service officer field assignments and general transportation of our administrative staff," says Lt. Will Glenn. "At El Toro, the vehicle is used by parking officers for parking and general lot checks."
"Each department is responsible for charging their own vehicles," says Van der Pol. "The vehicles can run for approximately 30 miles at a top speed of 25 miles an hour before needing to be recharged.
"They run well and need very little maintenance. The only major maintenance is the replacement of batteries about every five years," adds Van der Pol. "The vehicles will easily last 10 to 15 years and I suspect, up to 20 years."