Campus Daycare Facility Expands
by Pamela Mclaren
from Dateline ( January 30, 2003)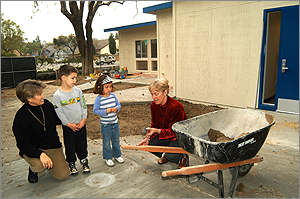 And soon there will be a new classroom, sprinklers and gardens, explains Betsy Gibbs, director of the Children's Center, right, to two of the children enrolled in the campus daycare facility – Bryce Stanley, 4, and Lynnea White, 4 – as assistant director Beverly Vargish, left, looks on. Behind the group is the new 1,300-square-foot addition that is being finished for the new semester.

Download image
---
Cal State Fullerton's youngest student body returns to campus this spring to enhanced facilities, thanks to a 1,300-square-foot addition to the Children's Center.
The addition was created to meet the increasing requests for childcare service from faculty and staff members, said Jay Bond, associate vice president for facilities management.
"A faculty/staff survey administered in 1999 indicated significant numbers of faculty and staff members had concerns regarding their childcare arrangements and faced difficulties working overtime, participating in training, accepting additional responsibilities and attending to non-classroom academic responsibilities due to childcare issues," said Naomi Goodwin, assistant vice president for administration.
"There is now a greater need with the recruitment of new faculty and staff members," Bond added. Because of that need, the university and not Associated Students – which operates and maintains the center – funded the $150,000 project.
The adddition was jointly funded by the seven university division heads as part of the campus's efforts to recruit and retain a highly-qualified and diverse staff and faculty, explained Goodwin.
"Since student fees provide financial support, the Children's Center was previously unable to address faculty and staff childcare needs. The addition allows the center to dedicate space specifically for faculty and staff members' children, while also ensuring operating funds provided by AS are used to support only student childcare needs," Goodwin added.
Since a 1996 student fee referendum, all students have paid a $10 per semester fee to support the center. A childcare facility has operated on campus since 1979, but the CSUF Children's Center was founded offcampus in 1971.
"We're pleased to be able to include faculty and staff members' children in the childcare offered on campus. This will make a good mix of faculty, staff and student parents and provide a common meeting ground that enhances the university experience," said Betsy Gibbs, director of the Children's Center.
The addition of a new classroom, two bathrooms and a pantry increases the size of the two-building center to 7,714 square feet, noted Gibbs, and increases the number of classrooms to six.
Last fall, the center's enrollment was 174 youngsters who attended on a flexible schedule. Prior to the addition, the California Department of Social Services had licensed the center for 80 students at any one time; the addition is expected to bring the capacity to 100, resulting in services to up to 210 children attending on a part-time basis per week, added Gibbs.
"I am really impressed at how this project came together through the efforts of those involved," said Gibbs. "The project developed from talk to reality in a matter of six months."
"Jim Corbett from Physical Plant and Betsy both worked extremely hard to ensure the addition was completed in time for the spring semester. While numerous people contributed to making it a reality, Jim and Betsy have been tireless in their efforts," said Goodwin.
The university's master plan, which is currently being finalized, includes a proposal for a 24,000-square-foot children's center. When the proposed facility would be built on campus is unknown at this time.