CSU Credential Programs Score High Marks
From Dateline (March 13, 2003)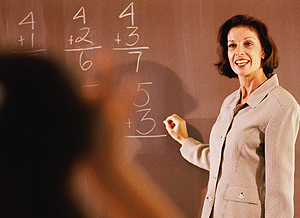 Eighty-three percent of the graduates of California State University teaching credential programs received high marks from their supervisors for level of preparation to teach reading and math skills in elementary schools, according to an evaluation presented March 12 to the CSU Board of Trustees.
The trustees, who were meeting on campus, learned that this level of effectiveness had improved from one year earlier, when 81 percent were evaluated favorably for their preparation in reading and 80 percent in math by supervisors.
At Cal State Fullerton that effectiveness is even greater. Ninety-one percent of CSUF graduates were rated prepared in reading and 83 percent in mathematics by their supervisors. Those numbers were 71 and 72 percent respectively, one year earlier.
"Our reforms in teacher preparation are producing dividends," said CSU Chancellor Charles B. Reed. "And the children in California's public schools are the beneficiaries. We intend to keep the focus on preparing outstanding teachers.
"Our goal is for every graduate of our credential programs to be a top-quality teacher."
CSU realized even greater improvements in preparing high school teachers.
Ninety percent of CSU graduates teaching in grades 9-12 received high "preparation grades" from their supervisors, up from 86 percent one year earlier. Cal State Fullerton graduates were rated 97 percent prepared for teaching in grades 9-12. In high schools, CSU graduates teach all subjects ranging from English and math to science, history and the arts.
---
"According to our graduates' responses on the survey, 92 percent selected Fullerton for its strong reputation for quality, and 86 percent felt that going to Fullerton would increase their chances of getting a position."
---
"I find it very easy to place graduates from Cal State Fullerton within the district," said Donna Perry, assistant superintendent of Anaheim Unified High School District. "The district's collaborative efforts with California State University, Fullerton is one of the strongest in the state of California."
"School principals and other site-supervisors assess our graduates very thoroughly, and are telling us that CSU teacher education is very effective," said David S. Spence, executive vice chancellor and chief academic officer. "This is especially reassuring when you consider that 95 percent of the supervisors have worked with many first-year teachers during their careers as school administrators."
A similar evaluation by the National Center for Education Statistics, a federal agency, showed that first-year teachers throughout the country were less prepared than CSU graduates - as much as 17 percent less prepared in the case of high school teachers.
In 2000-01, almost 10,500 teachers graduated from CSU campuses.
Other results of the CSU evaluation:
• 89 percent of CSU teaching graduates, and 92 percent of Fullerton grads, know and understand the subjects of the curriculum, according to their supervisors, up from 87 percent and 84 percent respectively, one year ago.
• 85 percent communicate effectively with parents, up from 84 percent the year before. Fullerton alumni scored 90 percent, up from 85 percent.
• 82 percent manage their classes effectively for instruction, up from 81 percent a year earlier. Fullerton alumni scored 84 percent, up from 83 percent a year earlier.
• 89 percent systemwide and 93 percent of Fullerton alumni prepared good lesson plans, and 83 percent of CSU grads (91 percent of those from Fullerton) used a good "mix" of teaching strategies - two important aspects of teaching that were evaluated for the first time this year.
The evaluation also showed that 95 percent of CSU students who earned state teaching credentials in 2000-01 served as full-time teachers in California public schools one year later. More than three-quarters taught in urban, metropolitan and rural schools. At the same time, more than half worked in low-income communities.
According to the experienced supervisors, CSU preparation was as effective in low-income schools as it was in schools serving higher-income families.
The new teachers rated the value of distinct courses and fieldwork activities in their CSU preparation programs, which they completed one year before answering the evaluation questions.
For 84 percent, the assistance provided by classroom teachers in the student-teaching phase was "very valuable and helpful." Preparatory courses in reading instruction for grades K-8 and in advanced instruction for high school teaching also were rated as "very helpful and valuable" before teaching began.
"According to our graduates' responses on the survey, 92 percent selected Fullerton for its strong reputation for quality, and 86 percent felt that going to Fullerton would increase their chances of getting a position," said L. Y. "Mickey" Hollis, acting associate dean for teacher education, College of Human Develop- ment and Community Service.
The evaluation revealed that only half of CSU-trained teachers received the benefits of student teaching because school districts throughout California hired the others as classroom teachers before they finished their preparation.
This premature hiring of unprepared teachers is the strongest barrier to the effectiveness of CSU teacher education programs, according to the evaluation report.
Initiated by the CSU Office of the Chancellor and the deans of education, the evaluation gathered reports from 2,442 randomly selected teachers and 2,002 supervisors. The report's margin of error is less than four percent.