President Gordon Serves on ROTC Advisory Committee
by Dave Reid
from Dateline (January 30, 2003)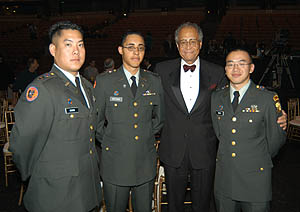 At a time when much of the nation's focus has been on possible military events in the Middle East, the role of the Reserve Officer Training Corps and its university chapters has reached new visibility.
Reflecting the importance of CSUF's ROTC program, President Milton A. Gordon is an appointed member of the Army Education Advisory Committee's ROTC subcommittee, which provides the secretary of the Army, the chief of staff and the Army's senior leadership with expert advice on Army educational programs.
The advice relates to educational policies, school curriculum, educational philosophy and objectives, program effectiveness, facilities, instructional methods and other aspects of the organization and management of these programs, according to Army officials.
"This program is very important because the Army needs educated leaders, and they come through the ROTC program," said Gordon. During committee meetings last fall, Gordon and other participants met with Maj. Gen. John T.D. Casey, commanding general of the U.S. Army Cadet Command in Fort Monroe, Va.
Gordon, whose term on the committee expires in October, said he was very pleased with the Fullerton chapter, which commissioned 11 cadets in ceremonies held last spring at the Nixon Library in Yorba Linda. It was the largest number of cadets commissioned in Cal State Fullerton's ROTC chapter history.
The campus ROTC unit has been honored by Casey as among the top 15 percent of Cadet Command's 270 units across the nation. The unit has participants from Biola, Cal Poly Pomona, Chapman and UC Irvine, in addition to Fullerton.
Lt. Col. Christian Taddeo is commander of the campus ROTC chapter.