Campus Construction Boom Is Backdrop for Fall Semester Launch
August 25, 2003 :: No. 26
Cal State Fullerton students returning to campus this week for the start of fall semester classes are finding themselves in the midst of the university's largest construction boom since the first buildings were erected in the 1960s.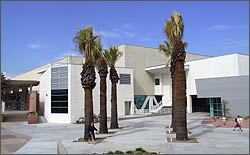 Kinesiology and Health Science building
New features already in place range from shaded benches beckoning to passersby from the perimeter of the fountain outside Langsdorf Hall to a newly expanded P.E. building that's been renamed to suit its sparkle — the Kinesiology and Health Science Building.
The 71,000-square-foot expansion of the facility that is home to Titan Gym and hosted the team handball competition during the 1984 Summer Olympics now boasts new facilities for the Wellness Center for Successful Aging, a two-court multipurpose gymnasium and a 125-seat lecture hall, as well as faculty offices. Funding from a bond measure passed by voters in 1998 as Proposition 1A made the $19 million expansion possible.
"Kinesiology is the study of movement, and for movement we need space," said Roberta Rikli, dean of the College of Human Development and Community Service. "The new wing will provide students with new and enhanced labs and classrooms, as well as modern, state-of-the-art equipment for their career preparation in rehabilitative services, fitness, health promotion, sports and education. With this expansion, our faculty members have, for the first time ever, their own offices in a building devoted to their field," she added.
Performing Arts Center
Elsewhere on campus, construction continues on the $43 million Performing Arts Center project — also funded with bond revenues, plus private donations. A bid was awarded this month to Hensel Phelps Construction Co., which has district offices in Irvine.
Work began this summer on a five-level parking structure on the southwest side of campus, with spaces for 2,500 cars when completed next fall. It's the first of two parking structures slated to accommodate the university's growing population.
The fall semester is expected to bring a record crop of students — an estimated 32,000, including more than 3,200 at the university's year-old El Toro Campus. Last year's fall semester student count topped the charts at 31,545.
This year's incoming tenure-track faculty members total 50, including 10 former lecturers and two librarians.
For the coming months, campus planners have rented additional parking spaces for students, faculty and staff members to use free of charge at the nearby Spectrum Club Fullerton and Arrowhead Pond of Anaheim. Shuttle buses, also free to riders, operate from both locations Mondays through Thursdays when classes are in session. The first shuttle leaves the Arrowhead Pond at 6:30 a.m. and makes its final departure from campus at 5:30 p.m. The shuttle route between campus and the Spectrum Club Fullerton operates from 7 a.m.-10 p.m. and also on Fridays until 6 p.m.
Other strategies to manage the limited availability of parking include capping the sale of student parking passes and also offering limited-use passes good for parking on campus after 3 p.m. and all day Friday. A no-tip valet program that has allowed for stacked parking in select student lots for the past two years is being continued and may be expanded to faculty/staff parking lots, as well. The top level of the Fullerton Marriott is again reserved for overflow faculty/staff parking.
"We're doing everything we can to accommodate the heavy demand for parking and to encourage members of the campus community to use public transportation and carpool whenever possible," said Joe Ferrer, director of parking and transportation. Drivers are being urged to visit the Web at www.parking.fullerton.edu for more information.
| | |
| --- | --- |
| media contact: | Paula Selleck, Public Affairs, 657-278-2414 or pselleck@fullerron.edu |