New Teacher Preparation Program to See Graduation of Inaugural Class
May 20, 2003 :: No. 240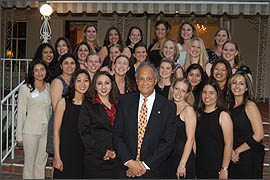 CSUF President Milton A. Gordon and the Blended Teacher Education Program's Class of 2003.



Download image
---
The time is near for the inaugural class of 26 students enrolled in the Blended Teacher Education Program to say 'goodbye' to Cal State Fullerton and 'hello' to their own classes of young students around the Southland.
Their graduation ceremony is slated for Sunday, June 1, when they will be recognized by the university and the College of Human Development and Community Service.
The Blended Teacher Education Program (BTEP) was instituted in 1999 to offer aspiring elementary school teachers the chance to earn a bachelor's degree while preparing for a teaching credential in just four years. The term 'blended' refers to the idea that students take classes in subject matter and teacher education simultaneously, noted Claire Palmerino, director of the university's Center for Careers in Teaching.
"These students have had the opportunity to experience a variety of classrooms and grades, and to grow and mature into their roles," she noted.
The BTEP Class of 2003 includes the following Orange County residents: Marion Pedicone and Norma Hernandez of Anaheim; Jeniece Ewald and Melissa Hooper of Brea; Jamee St. Clair of Cypress; Taylore Coulombe and Christina Miller of Fullerton; Lisa Diane Chips of Huntington Beach; Erica Marston of Laguna Niguel; Julia Jeffers of Orange; and Lien Huynh and Janelle Miller of Santa Ana.
Others in BTEP's Class of 2003 are: Sabrina Arroyo and Vanessa Delgado of Chino; Andrea Delgado Holling of Chino Hills; Jennifer Burns of Diamond Bar; Genevieve Anderson and Griselda Salazar of La Puente; Karina Pena of Los Angeles; Stephanie Hyatt of Moorpark; Adrianne Liggett of Rowland Heights; Cristine Sanchez of San Gabriel; Kara Schuster of Upland; Cynthia Madrigal of Walnut; and Jennifer Ponce and Alexandria Luna of West Covina.
"It is important to note that these students have had classroom experiences almost since day one," said Palmerino. "They've been an observer, taught a lesson, served in the capacity of a teacher's aide and, lastly, they've taught for the whole day," she said. "This class was recruited straight out of high school."
BTEP combines undergraduate studies and teacher education experiences from the student's freshman through senior year. The concepts from each type of course are integrated and taken in conjunction with field experiences in elementary classrooms. "It is a carefully designed sequence of courses that enables students to complete their general education, major and preliminary credential requirements in only eight full-time semesters plus two summer sessions," said Palmerino.
BTEP students choose from two academic majors, liberal studies or child and adolescent development, and two credential paths — the elementary education multiple-subject credential with emphasis on cross-cultural language and academic development or the special-education specialist credential.
In addition to completing a bachelor's degree and teaching credential requirements simultaneously, the program offers specially designed courses that make connections between content and elementary school participants. The program offers participants opportunities to network with students following the same program and career path, as well as a wide range of elementary school experiences throughout the four years. In addition, faculty members mentor and interact with participants beginning in their freshman year.
Admission to the program is limited to first-time freshmen who have a minimum high school GPA of 3.2 and commit to a full-time, five days-per-week program. "Part-time employment of more than 10 hours per week is strongly discouraged, due to the intense time commitment of this program," said Palmerino.
"Every year the number of freshmen who apply to BTEP grows, and each BTEP class is larger than the one before it. We expect 26 seniors to graduate this year, and approximately 40 to graduate next year," said Palmerino. "Cal State Fullerton is actively working with several community colleges to design a similar program for transfer students," she said.
Media Contacts:
Claire Palmerino at 657-278-4805 or cpalmerino@fullerton.edu
Susan Katsaros, Public Affairs, at 657-278-4854 or skatsaros@fullerton.edu