CSUF President to Speak at Education Conference in Cambodia
January 08, 2003 :: No. 122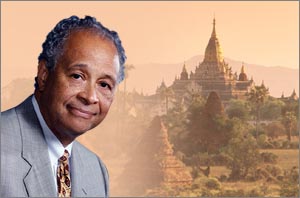 California State University, Fullerton President Milton A. Gordon is a special guest speaker at a Jan. 11 "Raising the Standards of Higher Education: Achievements and Challenges" conference at Pannasastra University of Cambodia.
Also speaking at the conference will be Charles A. Ray, U.S. ambassador to Cambodia; Harry Norman, dean of extended education at Cal State Fullerton; and Margaret Faulwell Gordon, dean of extended education at Cal State Dominguez Hills and Gordon's wife. The educators also will be meeting with their Cambodian counterparts in the first steps to establishing educational agreements.
"It is an honor to be asked to join this group of educators in exploring ways to develop and maintain a high-quality education for students," said Gordon, who has served as president of Cal State Fullerton since 1990. "No university in any country can think of its educational curriculum without considering the importance of globalization. Meetings such as this expand our experiences and enhance the efforts we make in serving our students and the community in which we live."
"As Cambodia continues to develop and as more students are completing high school studies, increasing numbers of these graduates wish to pursue their higher education," noted Kol Pheng, president of Pannasastra University, who invited Gordon to speak at the conference. "It is crucial that high uniform standards be adopted so prospective students will be assured that credits and degrees earned are accepted throughout Cambodia, that every university will be held to the same high standards. Further, we must ensure that Cambodian degrees will be recognized in the foreign lands, where many of our students hope to continue their studies, particularly Europe, Japan, Australia and New Zealand and the United States."
Cal State Fullerton — with a population of 32,143 students, including 1,367 from 86 nations — has developed educational agreements with about three dozen universities throughout the world, including Fudan, Northwest and Lianing universities in China. This spring, CSUF's College of Communications will begin offering a master's of communications degree through the University of Hong Kong's School of Professional and Continuing Education.

| | |
| --- | --- |
| Media Contact: | Pamela McLaren of Public Affairs at 657-278-4852 |