Professor Studies 'La Bajada'
Among L.A. Salvadorans
by Valerie Orleans
From Dateline (February 5, 2004)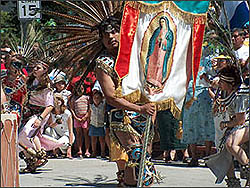 Aztecas dance at "La Bajada" festival.
photo courtesy of Solano
Los Angeles is home to an ever-growing population of Salvadoran immigrants. And while most are happy to be in America, there is still a longing for their country and the loved ones they left behind.
"For Salvadorans – many who are here because of political turmoil and unrest in their native country – celebrating traditions from El Salvador means a great deal," said Jeanette Reedy Solano, assistant professor of comparative religion. "Today, almost one-fifth of Salvadorans live outside El Salvador, most in America. And of those, 58 percent live in Los Angeles County."
Solano studies how religion is incorporated into the cultural lives of Latin Americans. Her interest began when she was introduced to the concepts of liberation theology while pursuing her doctoral studies at the University of Chicago's Divinity School.
"For people from countries where there is a great deal of political unrest, religion and politics often go hand-in-hand," she explained. "And particularly in countries such as El Salvador – where martyrs are frequently religious figures, such as Oscar Romero or the Maryknoll nuns that were killed by members of the militia – people have great reverence for religious traditions based not only on great faith but because they believe that Jesus and the saints understand their suffering."
Not only do Salvadorans revere their patron saint, El Divino Salvador, many who arrived in this country 20 years ago are concerned that their children do not understand or appreciate their heritage and traditions.
For that reason, when the Salvadoran American National Association commissioned a replica of El Divino Salvador (the original is housed in the national cathedral in San Salvador) to be brought to Los Angeles, there was cause for great celebration among the local Salvadoran community.
"Each year in El Salvador, they celebrate La Bajada," said Solano. "It's almost on the same level as Christmas. The holiday features the statue of El Divino Salvador, dressed in purple robes, being lowered into a papier-mâché and tape globe. On the globe itself, no borders are indicated – only continents. After a few minutes El Salvador reemerges, this time dressed in white to represent the transfiguration. As the statue emerges, the crowd cries out, 'Viva El Salvador!' which has two meanings – praise for both the savior and for their country of origin.
"To see the La Bajada ceremony attract more attention each year is quite gratifying," she said. "I see how traditions change as they move across the border and how they affect the lives of those immigrants who live here. The aura of meaning for most Salvadorans is one of struggle, migration and rootlessness."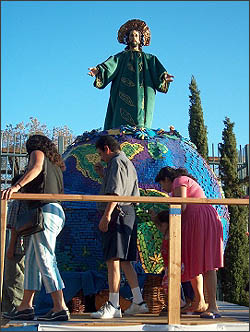 Statue of El Divino Salvador
After the statue of El Divino Salvador was made, it became a pilgrim too. As it traveled through El Salvador (in the back of a red pickup truck), residents gathered to touch the image, hopeful that their loved ones in America would be able to do the same.
"The statue became a symbol of love and hope between family members and loved ones despite the fact that they are separated by thousands of miles," Solano said. "When the statue arrived at Dolores Mission in Boyle Heights, a thoroughly Mexican area, it was greeted by mariachis and a crowd of 2,000. Each year, the daylong religious/cultural celebration grows. For instance, this summer's La Bajada ceremony was attended by more than 20,000.
"The symbol of El Divino Salvador is especially powerful for displaced Salvadorans, migrants and those whose families are split between two countries," Solano said. "To have the opportunity to study and celebrate with these brave people is truly a privilege."