Itís All About Being Informed and Aware
BY PAMELA MCLAREN
From Dateline (September 30, 2004)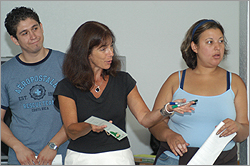 Susan Leavy, community educator in the Women's Center, explains a point during a presentation she made recently at the Cobb Residence Halls. Assisting her in the presentation are human services majors Rafael Barrios and Athena Taylor, who are serving internships in
the Women's Center.
---
Cal State Fullerton alumna Susan Leavy (B.A. psychology '74, M.S. counseling '81) has found a new home at an old haunt – a little more than a year ago she returned to her alma mater as the new community educator in the Women's Center.
The new position is partially funded by a donation from another alumna, Kathy Allred-Blake (B.A. business administration-management '83). Leavy, a licensed marriage family therapist with about 25 years of experience in rape prevention/survivor services, was tasked with designing, developing and implementing educational programs and outreach efforts related to domestic violence, sexual assault, dating violence, sexual harassment and stalking.