IT Manager Deployed as Campus Agent of Change
BY PAMELA MCLAREN
From Dateline (September 16, 2004)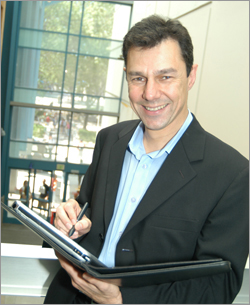 Amir Dabirian, project director for the campus implementation of the Common Management System, takes notes for a future meeting on his tablet PC. CMS is an integrated software
application system being implemented on all 23 California State University campuses and
the Chancellor's Office to manage data and communications for human resources, finance
and student records. Completion of the implementation throughout the CSU is expected in 2008.
---
This spring, Cal State Fullerton embarked on a systemic change in the fundamental way it operates beyond the classroom.
In that respect, Fullerton has joined its sister California State University campuses in a effort to institute one standard system for the common business practices – record keeping, enrollment, human resources and finances – all the universities perform. All 23 CSU campuses and the Chancellor's Office, are making, or have made, the switch to CSU's Common Management System using PeopleSoft applications.
The CMS project began in 1998 with the mission of providing an efficient, effective, high-quality service to students, faculty and staff.
"Several of the campuses were faced with a decision: what to do with their aging computer application software involved with financial and student records. In addition, campuses were recognizing the need for sophisticated human resources systems," said Amir Dabirian of Information Technology, who is Fullerton's CSM project director. "In a world of changing information technology, these systems were on the verge of obsolescence; they were cumbersome, monolithic, expensive to maintain and unable to keep up with the growing demands and complexities of information management."
Hence, a multiyear effort to bring a common interface system to all the campuses. Completion of systemwide implementation is expected in 2008.
In his role as Fullerton's project director, Dabirian is responsible for overseeing the project plan and keeping it moving. Overall, he stresses, the project is collaborative and involves people from throughout the campus. Here, Dabirian explains what CMS will do for Cal State Fullerton.