New Alumni Relations Leader Named
April 30, 2004 :: No. 237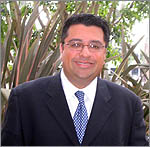 Carlos Leija
Lifelong Fullerton resident and Titan alumnus Carlos Leija (B.A. psychology '91) is Cal State Fullerton's new executive director of Alumni Relations, effective May 3.
He is currently director of development for the College of Humanities and Social Sciences and Guardian Scholars program—which recognizes the achievements and ambitions of students striving to earn a college degree and who have left the foster care system, were wards of the court or come from similar backgrounds.
Leija joined University Advancement six years ago, yet has been active with his alma mater for more than a decade, serving as president of the CSUF Alumni Association in 1997-98. Prior to joining Cal State Fullerton, and until last year, he maintained a chiropractic practice in La Habra.
As an undergraduate, Leija was active in student government, the Sigma Pi fraternity and other campus activities. Following graduation, he served for five years on the CSUF Alumni Association Board of Directors. He also served on the statewide CSU Alumni Council as a volunteer.
"I look forward to serving not only Fullerton's alumni, but the institution," Leija says. "I believe that collaboration is the key to making our Alumni Association a success. We want to build support for and by our seven colleges, among our students and with the Athletics Department, and we want to kick our association and its activities and involvement up to the next level. I am confident that we can do it all."
"I couldn't be happier with the selection of Carlos Leija," says Pamela Hillman, vice president for university advancement. "He brings such remarkable skill and commitment to the position, and his alumnus status gives him extraordinary credibility."
Leija succeeds Patricia Boggs, who has assumed new duties in University Advancement as senior director of development, major gifts.
Media Contacts:
Carlos Leija, Alumni Relations, 657-278-4733
or cleija@fullerton.edu
Gail Matsunaga, Public Affairs, 657-278-4851 or
gmatsunaga@fullerton.edu