Student Rodney Anderson to be
Honored By Cal State Fullerton
December 8, 2004 :: No. 102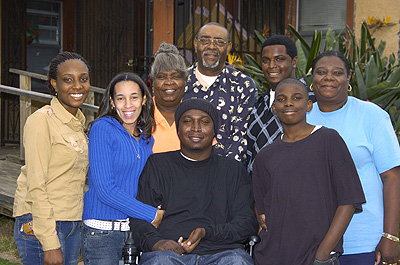 Rodney Anderson, seated center, with his family.
In 2000, Rodney Anderson, a student and basketball player at Cal State Fullerton, was visiting his family in South Central Los Angeles on a day off from practice.
Following dinner, he decided to go for a walk. While standing on the sidewalk a short distance from his home, gang members approached him, mistaking him for a rival gang member. He was shot three times — paralyzing him from the waist down.
Since that day, his friends and supporters at Cal State Fullerton have encouraged Anderson to continue his education.
"What happened to Rodney was tragic," said Robert Palmer, vice president for student affairs. "He was a promising basketball player on scholarship here. We all know what a special person Rodney is, and we wanted to continue our support."
His scholarship was continued and in June, Anderson is scheduled to graduate with a bachelor's degree in human services.
Tonight, Cal State Fullerton will honor the 23-year-old by retiring his jersey at a special ceremony, and a crew from ABC's "Extreme Makeover: Home Edition" will there to videotape the festivities.
"There is no doubt that Rodney would have continued to make a great contribution to the basketball team at Cal State Fullerton," said Brian Quinn, CSUF director of intercollegiate athletics.
"Even after he was injured, he still came to the games to support the team. He epitomizes good sportsmanship. Many people in his situation would be bitter, but that's just not how it is with Rodney. It is an honor for us to be able to recognize him tonight."
"It says a lot about Rodney that he wanted to continue with his education even after such a devastating injury," said Paul Miller, director of disabled student services. "We all want to do what we can to support him. He is an inspiration to many of the students here, both disabled and non-disabled. We are all very proud of his accomplishments."
The "Extreme Makeover: Home Edition" staff selected the Anderson home for an extreme makeover — in fact, the house was demolished over the weekend, and a new home is being built in its place.
Rodney has lived in the three-bedroom, one-bathroom home with his parents, his sister and her three children since the shooting. He has been restricted to two rooms of the house, including the dining room, which was converted into his bedroom. Because the house was built in 1911, the doorways to many rooms were too narrow to accommodate Anderson's wheelchair.
At one point, a contractor was hired to work on the home but after knocking down some walls, the contractor disappeared, leaving gaping holes in the house. Because of the house's age, the ceiling was in danger of collapsing and the floorboards were buckling under the weight of Anderson's wheelchair.
The family was facing financial difficulties as well. Anderson's mother had to quit her job to care for her son following the shooting. A year to the day after the incident; his father was in a car accident, severely injuring his foot.
With the help of the design team from "Extreme Makeover: Home Edition," the Andersons will have a new home. The contractors, designers and hundreds of workers are in the process of transforming the home into one that complies with the Americans with Disabilities Act. While the home is being built, the Anderson family is enjoying a weeklong vacation in the Bahamas, courtesy of the network.
The episode featuring the Andersons is scheduled to air on ABC in early 2005.
Media Contacts:
Valerie Orleans, Public Affairs, 657-278-4540 or vorleans@fullerton.edu.
Mel Franks, Sports Information, 657-278-3981 or mfranks@fullerton.edu.