UPS Executive Credits Fullerton for Strong Business Foundation
by Cathi Douglas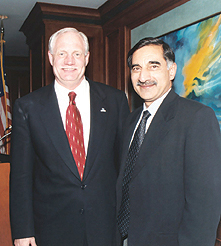 Joe Moderow '70 (B.A. economics) senior vice president of legal and public affairs for United Parcel Service, is welcomed by Anil Puri, dean of the College of Business and Economics.
His mother feared that he would become a soldier in the Symbionese Liberation Army. Vietnam War protests simmered on campus each afternoon. Timothy Leary appeared at Fullerton, urging students to "turn on, tune in, and drop out." And Joe Moderow '70 was a teaching assistant who later earned his bachelor's degree in economics.
In October, he was the featured speaker at the CSUF Alumni Association's Executive Speaker Series, waxing nostalgic about coming of age in the early 1970s. Today Moderow - senior vice president of legal and public affairs for United Parcel Service - spends most of the year on the road, talking to UPS employees about the corporation's vision of honesty, integrity, values and partnership.
With 13 million packages per day generated by nine million customers in 200 countries, six percent of the nation's GDP flows through the UPS system each day, Moderow told the 100 guests gathered at the Center Club for the Oct. 30 event. "Trust is the glue that holds our corporate culture together," he noted. "We must have consistent, reliable service. We are obsessive about protecting our image."
Moderow, who entered CSUF as an engineering major, said the same kind of mathematics that drove him out of that major got him excited about economics. Moderow previously worked in the Ronald Reagan administration, but has worked a total of 35 years for UPS, also known affectionately as "Big Brown."
He had kind words to say about his alma mater. "I was inspired to go after what my passion is," he recalled. "You must be committed to go after what you want in life. CSUF was an invaluable launching pad for me." The association's Executive Speaker Series continues this spring. For more information and dates, contact (714) CSU-ALUM.