Giant Step:
Walk Marks Alumna's Birthday—and Trail Recognition
from Titan Magazine (Fall 2003)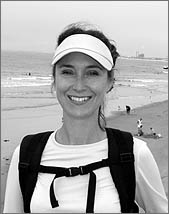 Virginia Gregurek
Confronting her 40th birthday earlier this year, Virginia Gregurek decided to celebrate with a grand gesture. Unwilling to settle for a big bash or two-minute skydive, the commemoration consumed 112 days of her life and took her on a journey of 1,200 miles.
"I started with the idea of wanting to walk across the U.S.," Gregurek recalls. Daunted by the enormity of her goal, she decided to look for a less-rigorous way to make a difference in the world. While reading a magazine, she spotted an ad asking for volunteers to walk the California coastline. "I knew immediately I wanted to do it."
The ad belonged to Coastwalk, a Sebastopol, Calif.-based nonprofit organization dedicated to promoting a continuous border-to-border California coastal trail.
Gregurek and nine others stood at the border between Oregon and California on June 3 to begin their three-month-plus journey. At press time, they were scheduled to reach the Mexican border on Sept. 22.
Since graduating, Gregurek '00 (B.A. art-art history) has been working on a screenplay and taking writing classes at UCLA. When she discovered Coastwalk, she knew she had the time and the desire to do the hike, but she questioned whether she could meet the physical demands.
Gregurek trained for a month, averaging about 12.5 miles a day. As a novice, she is comforted by the fact that her companions are experienced hikers.
Along the way the group slept on the beach, in state parks and in youth hostels. They toted daypacks while a 10-passenger van carried their food and other supplies.
"It was really exciting for her, and I supported her 100 percent," says Gregurek's husband, Philip Sadler. A 1984 CSUF graduate (B.A. theatre arts), Sadler joined his wife for a few weekend hikes as she trekked closer to Southern California.
Gregurek said she most looked forward to being in nature 24 hours a day. "California is the most beautiful place, and I want to make sure its beauty is preserved for all of us to enjoy."